I'm in a quandry of how to stop my cats from sharpening their claws on the arm of the couch! I will not de-claw. I've tried to replace the arm with nice scratching posts! I've now replaced the fabric twice! they are really well behaved cats, honestly, this is their only bad habit! They just REALLY like the couch arm. I'm just wondering if anyone has any advice to help me out?
Kate

Answers:
Bad Cats! Scratching The Arm Of The Chair
At one point I lived with a roommate who had three cats. To stop them from scratching in certain areas, she had sheets of double-sided sticky plastic that she ordered online. They were so uncomfortable to scratch that the cats would pick something else, although they would come back when the sheets were gone. You could use loops of packing tape to see if they'll respond to it before you order it. (01/04/2005)

By czarina
Bad Cats! Scratching The Arm Of The Chair
I have had luck with keeping pets off furniture by putting down aluminum foil. Maybe you could tape it to the chair arm. (01/04/2005)

By Faye
Bad Cats! Scratching The Arm Of The Chair
You're lucky my cat Becks loves to do it up the leg of my jeans! Not so bad when I'm not wearing them, but when I am, URRRRRR!

'The trouble with kittens they grow up to be cats!' Edward Lear (I think!) (01/04/2005)

By cath
Bad Cats! Scratching The Arm Of The Chair
Believe it or not I'm a dog person and yet somehow I've read about this. I know they sell booties, or something similar and not quite so cumbersome, to put on their paws for people who don't want to declaw their cats. And I totally agree with you for not wanting to declaw them. I think it's cruel. So good for you. (01/04/2005)

By Vicki
A solution that has worked for our cats ->>>
The only solution we have found for our two very pampered, sweet, but elderly Persians is to use a thing called SOFT PAWS. You can visit their site at http://www.softpaws.com/ to check them out and read what it is, which you can order them and do it yourself (good luck!), but most veterinarians now have them in stock to do it for you. You only have to put them on the front paws, so no need for a complete set. The advantage of getting the vet's office to apply them is that not every claw may use the same size "soft paw" and you wouldn't be stuck ordering the wrong size "paws." BTW, you may care to check around and compare prices. One vet here was charging me $40 total for my two cats. At the time they were the ONLY ones. Then later I found another vet who had started using them, and it cut my fee in HALF to only about $20 total, if not less!! Best wishes and good luck! We do love our fur babies, that's a fact! (01/04/2005)
By themusiclady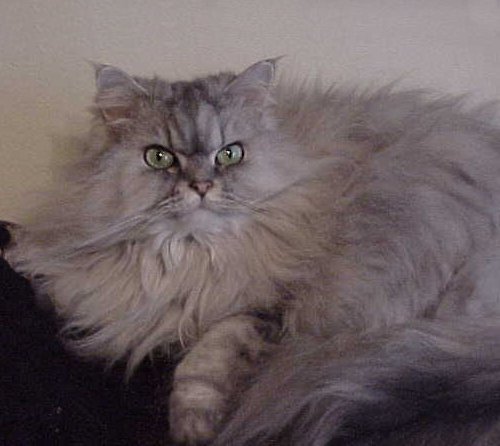 Bad Cats! Scratching The Arm Of The Chair
Couldn't you just lock them out of this room when you're not there to stop them scratching? A small water pistol is very effective if you can catch them in the act. A quick spray with plain water gives them such a fright, they learn quickly not to do it. Aim and fire if you see them attempting to jump on these particular pieces of furniture! Harmless but effective.

Regards
(01/05/2005)

By Jo
Bad Cats! Scratching The Arm Of The Chair
Hi, we have 3 cats now. I have been clipping their nails all their lives and our past kitties for about 25 years. You have to be careful about how short you clip them. This costs nothing! I would suggest that if you want to find out how to do this you go to a search engine and type in "clipping feline nails" or something like that. You can see the vein in the nail where you shouldn't clip into. Another deterrent is spray bottles, I bought at Sam's club. We have them at the doors to keep them from escaping. They know when we pick up the bottle, they have done something wrong. They also know the difference between good kitty and bad kitty. (01/05/2005)

By CHML
Bad Cats! Scratching The Arm Of The Chair
I tried the foil on my furniture and it worked great buy didn't like the way it looked. The plastic worked just as good and looked better. But instead of ordering expensive plastic, just go to the local homedepot and buy a thick plastic sold in sheets or rolls and double sided tape. It works great. (01/05/2005)

By kji
Tape and water !, Bad Cats! Scratching The Arm Of The Chair
A couple tricks :-)

First get some packing tape and make loops with it. Put it on the areas they can reach. They HATE tape and will tire of trying to find a place on the couch to claw.

Also, if you catch them in the act, a little spray of water from a spray bottle will send them packing. We have one spoiled fat cat named Duchess that prove that !:-)

Good Luck !
(01/05/2005)

By Lisa
Bad Cats! Scratching The Arm Of The Chair
My cat had decided that he liked the side of our couch. I found an old upholstered ottoman and he now uses that to scratch on. It is heavy enough that he can pull himself around it without it tipping over. That was the problem that I had with his scratching post, when he would really get to scratching it, it would tip over. (01/05/2005)

By missy
Bad Cats! Scratching The Arm Of The Chair
Several companies devoted to pets have plastic nails that are glued over the cats nails to prevent them scratching. It doesn't hurt the cat in anyway and is so much better than declawing. I don't have my catalogs here but a search online for "pet supply companies" should bring you results. Good luck (01/05/2005)

By Roberta
Bad Cats! Scratching The Arm Of The Chair
Thank you all for such a wonderful response! What good ideas! I think the sticky tape for me would work the best! These kitties are 12 and 13 years old, wouldn't know it tho, run, jump, play ,catch mice! they are very youthlike. I can't block off the couch from them as the living area is a key point to the whole house. The foil is a good idea, but kinda hard for my situation. But the tape is a keeper! and for the leg kitty, lol, I know the feeling! Happy cat, painful on the leg! Mr. Drac loves my nylons, and will give me "love bites" when I'm wearing them. He will rub along my legs while I'm cooking dinner then unexpectedly nibble. Doesn't hurt, just startles! (01/06/2005)

By Kate
Bad Cats! Scratching The Arm Of The Chair
So far I've put two circles of tape on the arm and I've found that neither kitties are impressed! The looks I get! The arm is now safe! Thank you all! (01/07/2005)

By kassi59
Bad Cats! Scratching The Arm Of The Chair
Besides "sealing" off the couch arm (I have used both foil and plastic with success in the past, I like the idea of the double stick plastic! (Going to try that myself with the next kitties) Try making their scratching post more attractive. I use catnip on mine. If I can get fresh nip I rub the leaves and stems all over the post to attract the cats. If I can't find fresh I use a spray that I found at the pet store. Works well but must be reapplied more often. This worked well for my 11 year old that did not like (or liked too much) the new loveseat we purchased a couple of years ago. If the cat scratch post is too easily tipped over, nail a large piece of scrap plywood to the bottom. Not always attractive but definitely safer. (01/11/2005)
By Melody
Bad Cats! Scratching The Arm Of The Chair
Ok, here is what I did. I have a 10 month old Himalayan Pure Bred Chocolate Point Cat. She would scratch on ANY of our furniture. So, I took a small spray bottle and filled it with water. When she scratched on the furniture I will squirt her with the bottle (it does not hurt her in the least). In a firm but gentle voice (not screaming) say, "NO". She hasn't done it since. It's been 3 weeks now. I also made a scratching post with old carpeting and glued catnip on the post and then glued and stapled the carpet to an OLD piece of 4X4 It worked!

By BettyBaldock
Bad Cats! Scratching The Arm Of The Chair
A water gun works wonders for us. Our youngest Siamese (1 year) RUNS the other way when we even pick it up and point it towards him! (06/19/2005)

By
Bad Cats! Scratching The Arm Of The Chair
I have used contact paper and made a loop with it so the sticky side is facing out, stick it to whatever your kitties are scratching and the first time they get stuck to it should be their last, it works good for counters too, just put it up there sticky side up, just a warning though, a cat WILL stick to this but it wont hurt them just perturb them a little, just use care when peeling kitty away. (11/24/2008)

By
Bad Cats! Scratching The Arm Of The Chair
This is working for my cat so you may see if it works for yours. Try a small fireplace sized log and spray it with liquid cat nip (I also put some of her play toys near the log so she knows to go to the area). From the start, I took her to it and put her paws on it every hour or two for a two week period and she got the hint. Now she is scratching it on her own.

My cat is 7 years old and quite stubborn. Before I did this trick, she had picked the stuffing out of 2 chairs. (12/18/2008)

By 263236