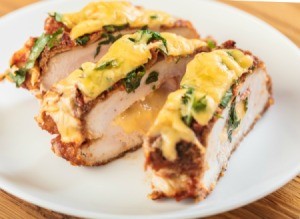 I love this with egg noodles lightly coated with garlic butter and a mixed green salad with tomato vinaigrette dressing.
Ingredients:
4 skinless, boneless chicken thighs, slightly pounded
2 Tbsp. butter, melted
1/2 cup all purpose flour
1 tsp. salt
1 tsp. pepper
1 tsp. garlic powder
1 egg
1 Tbsp. milk
1 cup cheddar cheese, finely shredded
1/2 cup Panko bread crumbs
Directions:
Preheat oven to 350 degrees F.
In a bowl, mix the flour, salt, pepper, and garlic powder.
In a second bowl, beat together the egg and milk. In a third bowl, mix the Panko and cheese.
Dredge chicken pieces in the flour mixture, dip in the egg mixture, then press in to the Panko mixture to coat.
Arrange in a baking dish. Drizzle 2 tablespoons butter evenly over chicken.
Bake 35 minutes or until coating is golden brown and chicken juices run clear.
By Deeli from Richland, WA