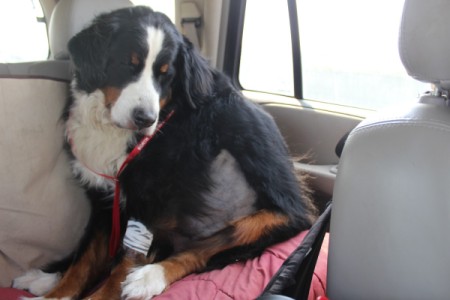 Your Pet's Age
5.5 years old
Your Pet's Breed
Bernese Mountain Dog
How and when did you get your pet?
Bleu was born in our home from a pair of Bernese Mountain dogs we bred. In this photo he has just been released from the hospital after having life saving emergency surgery when he bloated and his stomach twisted! It's a genetic disorder in large breed dogs with deep chests like Bernese, Great Danes, and Great Pyrenees. We were very blessed and quite lucky to know the symptoms and get him into an emergency vet who was able to get him into surgery quickly. Most of the time dogs will not survive when their stomach does the torsion/twist, so yes we are so very grateful and hold strong to our faith that God was with us.
What does your pet like to do for fun?
Bleu is my sweet boy that is a pest to all the others in our home, ha ha. We like to call him Budapest as in Boo Da Pest! He likes to bark at anything. I think he just likes the sound of his voice. But after losing his mama to cancer we allow this boy to bark whenever he likes.
Do you have anything else to share about your pet?
When Bleu was born, into my own two hands, he wasn't breathing. He was breach. I had to sling him and actually do mouth to snout to get him going. It took almost 5 minutes of off and on breathing to finally get him stable. He was essentially a blue baby and and that is how he got his name. I have to be different, so I spelled it like bleu cheese, lol.
Add your voice! Click below to comment. ThriftyFun is powered by your wisdom!