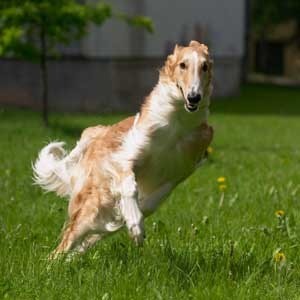 Breed Description:
The Borzoi is a tall, slender, elegant-looking breed built on lines of speed and grace similar to the greyhound. Originally bred to track wolves, Borzois have long, narrow heads, gracefully curved backs and possess great courage and sensitivity.
Group: Hound Group
Purpose of Breed: Hunting wolves
Country of Origin: Russia
Average Size: 75-105 lbs. and 27-31 inches tall
Color(s): The Borzoi comes in any combination of colors, though usually white with markings of lemon, black, gray, brindle or tan.
Coat Type: This breed's coat is long and silky, either flat, wavy or somewhat curly. The hair on the head, ears and front of legs is short and smooth, while the hair on the hind quarters and tail is long and feathered.
Grooming: The Borzoi's coat needs daily grooming to remove dirt and dead hair. This breed requires standard care for eyes, ears, pads and nails.
Exercise Needs: The Borzoi is a large dog that needs regular runs and long walks to maintain its physical and mental health.
Temperament: This breed is sensitive and aloof, yet faithful and protective of its owner.
Common Ailments: Susceptible to bloat and torsion, hip dysplasia, progressive retinal disease and sensitivities to anesthesia.
Life Expectancy: Averages 9-10 years
Trivia: The name "Borzoi" is derived from the Russian word borzii, meaning swift.
More Information: Borzoi Club of America