Bottlecap Pincushion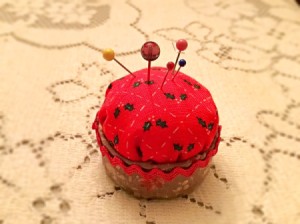 This is a simple way to make a small pincushion from a plastic bottle cap. You could also attach a small loop of elastic band beneath it and wear it on one of you fingers as you sew.
Total Time: 1 hour
Yield: 1 pincushion
Supplies:
decorative cotton fabric pieces
scissors
needle
thread
strong glue
clothespin
cotton stuffing
decorative trim (optional)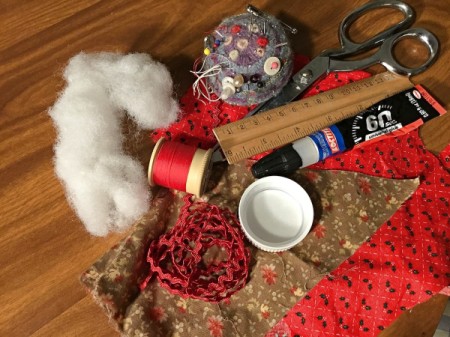 Steps:
Wrap some fabric around the bottle cap to find out how much you will need to cut. You'll want overhang on both edges so you can tuck it in for a clean finished look.
All together, you will need one for the sides, one for the bottom, and another large circle in a contrasting colour to make the top cushion.
Place some glue around the sides of the bottle cap.
Use your clothespin to hold the fabric onto the bottle cap until it dries.
Make a bunch of small snips on the overhanging fabric. Glue these strips over the bottle cap.
Now glue the little fabric circle over the strips.
Cut more snips on the overhanging piece on the other side.
Glue the strips into the bottle cap. Let dry.
Now sew a running stitch all around the edge of the larger round fabric piece.
Pull on the string to gather it up, stuff with cotton, then sew it shut.
If you have some lumpy cotton bits, you can easily move it around with your needle to fill in the spaces for a nice rounded look.
Glue the ball into the opening of the bottle cap. Push the edges into the glue with some pressure. Let dry.
Add some decorative trim around the edge, if desired.
Needle up and get sewing. :)
Add your voice! Click below to comment. ThriftyFun is powered by your wisdom!