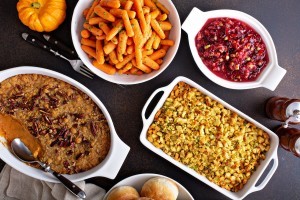 What are your favorite Thanksgiving side dish recipes?

Answers

Judy
Gold Post Medal for All Time! 677 Posts
November 9, 2021
1

found this helpful
Best Answer
I make stuffing with Ritz crackers instead of bread. I also like to serve sauteed green beans with slivered almonds.

CDC
Bronze Tip Medal for All Time! 59 Tips
November 9, 2021
3

found this helpful
Best Answer
I was recently given a big bag of dried cranberries and didn't have any canned cranberry sauce for Thanksgiving so I found this recipe and I'm going to try it. *I might add some orange juice to the sauce as well, as I like the flavor of it in cranberry sauce.*
delightedbaking.com/.../

gggd
Silver Answer Medal for All Time! 425 Answers
November 9, 2021
2

found this helpful
Best Answer
Some of my favorites are: my Grandmother's Cranberry-Orange Relish, my Great Aunt's Sauted Brussels Sprouts with bacon + onion + fresh mushrooms, and my Mom's Sage and Sausage Stuffing.

November 9, 2021
1

found this helpful
Best Answer
Fresh made cranberry sauce with grated orange and chopped celery mixed in. Several variations of the recipe available online.

Jess
Silver Post Medal for All Time! 267 Posts
November 10, 2021
1

found this helpful
Best Answer
My son has been a vegetarian for over 8 years so we have lots of sides on Thanksgiving. In addition to mashed potatoes and stuffing, we always have mac and cheese, cheesy (scalloped) potatoes and roasted Brussels sprouts. Depending on who else might be coming, we may also have green bean casserole, salad or sweet potatoes too.
I always insist on fresh cranberry sauce over canned. It's so easy and I love the flavor. I have added oranges or other ingredients in the past, but it is usually just cranberries, sugar and water. Sometimes this sauce is added to a smoothie or milkshake to use it up later, or served over pancakes or waffles.
With all these sides, there is always a lot of leftovers. I will start a soup from the turkey frame after dinner and usually cook it overnight right in the roasting pan. I also make little turkey pot pies with turkey, mashed potatoes, vegetables and gravy. I top them with stuffing, which crisps up wonderfully. I put these right in my oven safe bowls and freeze them for a delicious lunch option later in the season. If I still have a lot of any one side, I will freeze that to be served with dinner later. Leftover snacks like cheeses could be incorporated into a breakfast quiche or frozen for use in a future recipe. Leftover bread or rolls can be made into croutons or even a bread pudding. I don't let anything go to waste if I can help it.

November 14, 2021
1

found this helpful
Best Answer
My sister in law makes a wicked scalloped turnip casserole. She has given me the recipe and it is always enjoyed even by those who despise turnips.

Ana
Bronze Post Medal for All Time! 140 Posts
November 16, 2021
0

found this helpful
Best Answer
I am going to go with my Husband's stuffing. It is a meal all on it's own. It is savory with a hint of sweet, by using basic small chunky bread cubes, celery, carrots, onion, Italian sausage, ground beef, raisins, chicken broth, seasonings.
For vegan lovers, omit sausage, beef and chicken broth by using vegetable broth. It will still have a savory flavor. This is a dish that is favorite with our family, and it takes first place over other sides and meats (Turkey). Ymmm can't wait!
Answer

this Question
This page contains green bean casserole recipes. Green bean casserole is a delicious dish that many families serve at Thanksgiving.
It is a simply dish to make and there are a number of ways to enhance the traditional recipe too.