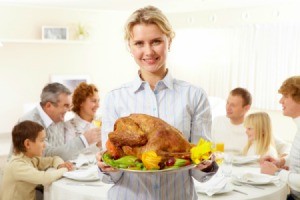 I don't know if this is a tip for us to save or for the others to save. For several years, my family has had Thanksgiving dinner on the Sunday after the holiday. I figured the married kids would go to the in-laws for dinner on Thursday. This year we are doing it different. First we are having it on Thursday, as it should be. It is a potluck dinner, each one brings a part of the dinner.
I live in senior low income apartment building that has 36 apartments. This year I asked my family to make a little extra of their item(s) because I posted a note inviting any tenants that are not going out to dinner with their family or friends to eat with us.
That way they can have a big holiday dinner too and take leftovers home for another meal or two. I also said if they have a good friend they spend a lot of time with, that person can come too. One lady is bringing her brother who lives in another senior building. One is bringing a friend that helps her a lot because she is handicapped. So far counting the brother and friend we have six signed up. I expect a few more.
When the apartment manager heard my plans, she offered a ham to go with our turkey. Because of limited cooking space and time, because of handicaps, she is going to cook it for us. I would like your readers to invite a friend or two to your dinner, too. Maybe an elderly person who has no place to go.
By Linda from Bloomington, IL
Read More

Comments

We are currently having a problem with my mother-in-law and Thanksgiving. My husband and I invited both of our families over this year at our place. His mother has a problem with this because she is allergic to our two cats. She also smokes two packs of cigarettes a day, and has heart problems. She says it takes her 3 days to recuperate, when she has come over in the past. I had the cats before I met my husband who loves them, too.
We can't have a combined Thanksgiving at my mom's house, because she has more cats than we do, so that leaves the mother-in-law's house. My mom doesn't like his mom very much. My mom has come in the past to Thanksgiving dinner at my husband's grandpa and aunt's house. This year the aunt is having Thanksgiving at her son's house.
A couple of weeks ago, I mentioned to my mom that we wanted to have it at our place this year with everyone invited. She said it sounded good. But now because of my mother in law, we are at the point of either doing it at her house, or doing it separate with my husband spending the day with his family, and me with mine. I don't want to do that because this is our first Thanksgiving as a married couple.
My mother-in-law can be difficult and told my husband in the past that she loves fighting and getting her way. Are there any suggestions you can give because this is driving me crazy? I'm so worried about having to deal with this for all the holidays, when we have kids in the future. Please help us with advice of what you would do for the holidays in this situation.
P.S. - I forgot to add that our families live on opposite ends of town (one hour drive from one family to the other), and we live in the middle so our place is convenient for both families.
By Dana Hull
Answers

November 12, 2009
0

found this helpful
My suggestion to you would be to stick with what your idea was. And that is to have Thanksgiving at your own home. It is important that you and your husband begin your own family traditions. It seems as if you both are not only concerned about what is more convenient for you but also for both extended families. I do feel bad that your mother in law is difficult to deal with. She clearly is having some issues if she admitted that she likes to fight and get her way.
Also, it seems to me that the "allergic to cats" line is no worse a condition than smoking two packs a day! One thing to remember is... You can't please everyone. Family or not. As a young married couple, you have to do what is the best for your new family, you and your husband. I know it sounds harsh, but my own daughter deals with difficult in laws as well. And don't forget... Have a Happy Thanksgiving!

November 12, 2009
0

found this helpful
I think that either you continue with Thanksgiving as planned, or everyone meet at a restaurant. If you go the restaurant route, perhaps anyone who cares to could go to your house afterward to have some dessert. So, if anyone has a legitimate reason not to come (allergic to cats), they've still shared the meal with you, but can politely decline dessert.
As drjungblut pointed out, you cannot please everyone all the time. You've said that this is your first Thanksgiving together. I see no need for the two of you to eat at different places. Everyone should realize that you are newlyweds. He is your new family, and you are his. We did plenty of running around early in our marriage, but after we had our daughter, I had to speak up about what we would and would not do. What good is running around, all frazzled, trying to please everyone? At the end of the day, have you actually enjoyed any quality time with anyone?
And your mother in law has her own issues (likes to fight). If she becomes too belligerent, I suspect there will come a point where you and your husband will have to tell her that you simply won't participate in such behavior. HE should be the one to step up on that one, since it's his mom (and you back him up).
I hope that you come up with acceptable arrangements for Thanksgiving. And then you have Christmas to look forward to. :-) Best of luck, and happy holidays!

November 12, 2009
0

found this helpful
Tell the mother in law that dinner will be at your house. Every one is going to help make it an enjoyable event. You will lock the cats in the basement, and she has to smoke out on the Porch! Let her choose what she wants to do-smoke out side or stay home alone.

Joan
Bronze Feedback Medal for All Time! 186 Feedbacks
November 12, 2009
0

found this helpful
This might sound harsh, but if your mother-in-law is allergic to cats, maybe she shouldn't be smoking either. Also you shouldn't have to put the cats in the basement. She is going to have to learn to adapt to the cats. I know a woman who has two cats, and one of her daughter in laws has asthema and when she visits she goes through more medication than normal, but she grins and bears it.

November 12, 2009
0

found this helpful
I think your Mother-in law not only likes to fight, she is also very controlling. If she manages to separate you and your husband on this holiday, she will try to do the same thing on every holiday in the future. You and he need to stick to your guns now and have Thanksgiving dinner at your house as you planned.
My husband is allergic to cats and it was a miserable day for him when we went to his aunts. If it was a child allergic to the cats would you make him go into that environment? NO. I would suggest putting the cats in the basement away from the furnace, and cleaning the house really well, or meeting at a restaurant. Mother-in-laws can be a pain but if the cats bother allergies that is not her fault. I love cats but can't have them due to husband and child. I had to get rid of one I loved. One day of the cat being in the basement will not hurt them. Good luck, let us know what you do. Restaurants are easy clean up.

November 12, 2009
0

found this helpful
My daughter is allergic to cats. It is really a problem for her when we go to my MIL's for Thanksgiving or when she stays over night at a friends house where there are cats. We found just taking a non drowsy antihistamine does the trick. Perhaps it will work for your MIL too, but she is probably the type that no matter what solution you come up with she will find a reason to say it won't work. The restaurant idea could be a solution until children come along. My sister and BIL would alternate holidays with our family and his. Every other year for each of the holidays, with an alternate day selected to celebrate with which ever family they didn't get to visit with on the actual holiday.

November 12, 2009
0

found this helpful
Ain't life grand? LOL. Since this is your first Thanksgiving as a married couple at your house, then you and your husband decide what the rules are going to be and stick to what you both agree on, no matter who's toes you may step on. Surviving family dinners can be done if planned ahead very carefully and with much thought! Best of luck to you this Thanksgiving. Hope it is a nice one.
Read More

Answers