Bringing Families Together at Thanksgiving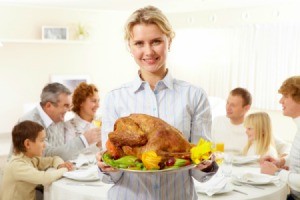 I don't know if this is a tip for us to save or for the others to save. For several years, my family has had Thanksgiving dinner on the Sunday after the holiday. I figured the married kids would go to the in-laws for dinner on Thursday. This year we are doing it different. First we are having it on Thursday, as it should be. It is a potluck dinner, each one brings a part of the dinner.
I live in senior low income apartment building that has 36 apartments. This year I asked my family to make a little extra of their item(s) because I posted a note inviting any tenants that are not going out to dinner with their family or friends to eat with us.
That way they can have a big holiday dinner too and take leftovers home for another meal or two. I also said if they have a good friend they spend a lot of time with, that person can come too. One lady is bringing her brother who lives in another senior building. One is bringing a friend that helps her a lot because she is handicapped. So far counting the brother and friend we have six signed up. I expect a few more.
When the apartment manager heard my plans, she offered a ham to go with our turkey. Because of limited cooking space and time, because of handicaps, she is going to cook it for us. I would like your readers to invite a friend or two to your dinner, too. Maybe an elderly person who has no place to go.
By Linda from Bloomington, IL
Read More

Comments
Questions
Ask a QuestionHere are the questions asked by community members. Read on to see the answers provided by the ThriftyFun community or ask a new question.
We are currently having a problem with my mother-in-law and Thanksgiving. My husband and I invited both of our families over this year at our place. His mother has a problem with this because she is allergic to our two cats. She also smokes two packs of cigarettes a day, and has heart problems. She says it takes her 3 days to recuperate, when she has come over in the past. I had the cats before I met my husband who loves them, too.
We can't have a combined Thanksgiving at my mom's house, because she has more cats than we do, so that leaves the mother-in-law's house. My mom doesn't like his mom very much. My mom has come in the past to Thanksgiving dinner at my husband's grandpa and aunt's house. This year the aunt is having Thanksgiving at her son's house.
A couple of weeks ago, I mentioned to my mom that we wanted to have it at our place this year with everyone invited. She said it sounded good. But now because of my mother in law, we are at the point of either doing it at her house, or doing it separate with my husband spending the day with his family, and me with mine. I don't want to do that because this is our first Thanksgiving as a married couple.
My mother-in-law can be difficult and told my husband in the past that she loves fighting and getting her way. Are there any suggestions you can give because this is driving me crazy? I'm so worried about having to deal with this for all the holidays, when we have kids in the future. Please help us with advice of what you would do for the holidays in this situation.
P.S. - I forgot to add that our families live on opposite ends of town (one hour drive from one family to the other), and we live in the middle so our place is convenient for both families.
By Dana Hull
Answers
Read More

Answers
Published by ThriftyFun.
© 1997-2023 by Cumuli, Inc. All Rights Reserved.
https://www.thriftyfun.com/Bringing-Families-Together-at-Thanksgiving.html