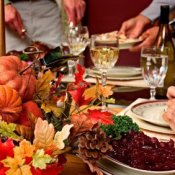 My boyfriend of 8 years and I just want to stay home this Thanksgiving, keeping it nice and simple and just watch football. His mother is 93 and we have always fixed the dinner at her place. Are we being selfish? Any feedback would be gratefully appreciated.
By ann lehman
Answers

Joan
Bronze Feedback Medal for All Time! 186 Feedbacks
November 11, 2010
0

found this helpful
I don't think you are being selfish, but then on the other hand how much time do you figure she has left on earth, and how bad would she feel if you didn't spend the day with her. Myself I would never get involved with any man that wanted to spend a whole day watching football. The people that I know have their holiday meals around 12-1 PM, which is the same time we normally eat. If you went to her house early enough to prepare a meal and eat, then visit a little while, you could then go home and have about half the afternoon and evening for yourselves. Myself I would like to not have my one daughter and her four kids for the holiday meals, but the adult developmentally disabled daughter that lives with me thinks that would be awful.

November 11, 2010
0

found this helpful
You are aware it is called 'Thanksgiving' and not 'national watch football day'. Does his mother have an alternative to YOU fixing Thanksgiving dinner at her house. Could you prepare a meal and bring it to her and visit with her for a while?
Is there anyone else she could visit with? I would guess she just appreciates the company. And if you are begrudging her your time, she will pick up on that. At age 93 I would guess she won't be around a lot longer.

November 11, 2010
0

found this helpful
Go pick her up and bring her to your house.

Myrna
Bronze Feedback Medal for All Time! 168 Feedbacks
November 11, 2010
0

found this helpful
It's nice of you to do the cooking and share family time every year with your boyfriend's mother at her home. At her age, I'm sure she appreciates the get together with you all and giving her good times for what years she may have left. To me, anything that dominates the time from family on this special day should get the axe. There are other less important days for such activities and plenty of them.
The most important idea of Thanksgiving is being thankful for God and others who have given and enriched our lives; not taking away from it. I hope you will continue to sacrifice a few more years to your boyfriend's mother. He'll never regret it when she's gone and he looks back on those years and be glad he was there for her.
Read More

Answers