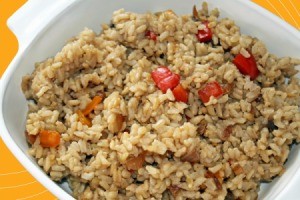 Ingredients
quick cook brown rice (approx 3 cups for 6 servings of 2/3 cup each)
8 oz. frozen Brussels sprouts
3/4 cup shredded Parmesan cheese
salt and pepper
Approx. 1 1/2 Tbsp. butter or margarine
Directions
Prepare quick brown rice (any brand will do) enough for 6 servings. Defrost the sprouts in the microwave.
After they have defrosted, use a quick chopper or food processor to shred the defrosted sprouts. Only pulse until the leaves have all separated from the sprouts.
Remove rice from pot, dump into a casserole dish, dump shredded Brussels sprouts into the rice-mix to combine. Top with approx. 3/4 cup of shredded Parmesan cheese. Season to taste with salt and pepper. Cover tightly with foil.
Bake covered at 375 degrees F for approx. 20 minutes, then remove the foil, add several pats of butter or margarine, and bake uncovered for an additional 15 minutes.
Stir, serve and enjoy!