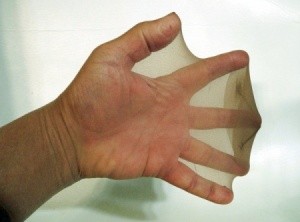 For all you ladies. I bought a queen size pair of panty hose for storing white potatoes. It works very well. Who would ever thought you could get 10 pounds of potatoes in that thing, with room to spare. Who would ever thought it would stretch past 8 feet. Hanging it on a nail posed no problems. Nylon is tough. Guess that's why it was used for parachutes in WW2. Just don't try fishing the potatoes out. Not practical. Just dump out what you need.
I put 10 pounds of potatoes in the panty hose and I could have gotten more in. I hung the panty hose on a nail. I retrieved potatoes here and there until the hose was empty. I really put that pair of panty hose through some rough treatment. Guess what? Not one run with all that rough handling!
Here's the tip. I think it can be safely said that while the isles of Dollar Tree are filled with ordinary stuff, there are some great bargains to be had. That's where I bought the panty hose, and of course, they cost only a dollar. Go splurge, ladies. Too bad they don't sell bloomers, hat pins, and wasp waist corsets.
Wasp waist corsets? Those were the days.