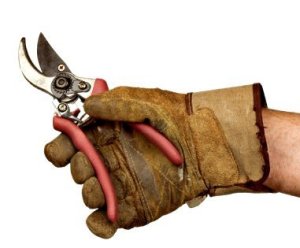 When pruning trees and shrubs, it is important to use the right tool for the job. With so many different types of pruning tools available-each one designed to perform a specific task, buying the right tools can be a bit overwhelming. Here's what you need to know to buy the right tool for the job.
A complete set of pruning and trimming tools for the gardener usually includes a pair of hand pruners; a pair of long-handled loppers; a pruning saw to handle larger branches; and a pair of garden shears for trimming hedges. Exactly which of these tools you should buy depends on your individual needs and your personal preferences for style.
Hand Pruners
Hand pruners are used for pruning soft shoots and woody stems up to ½ inch thick. They come in two basic styles: bypass and anvil.
Bypass pruners: This style of pruner cuts with a scissor-like action. Its thin, tapered blades make it ideal for reaching in between branches. The sharp, upper cutting blade passes against the lower, square-edged "holding" blade. This action allows you to make a smooth accurate cut very close to the tree (or stem) you're pruning.
Anvil pruners: These pruners cut with a single straight cutting blade that closes down on the center of a flat edge or anvil. This style of pruner tender to be a bit more bulky and the cutting action prevents you from cutting as close to the trunk as a bypass pruners (you are more likely to leave a small stub). The advantage is that the design of these pruners allows them to cut larger branches with less probability of damaging the blade.
Ergonomics: Pruners can start to take a toll on your hands and wrist after only several minutes of repeated use, so try them before you buy them. Check that they feel comfortable in your hand and are easy to operate. The handle material and shape, how wide they open, and the pressure of the return spring all vary considerably from one style to the next.
All pruners should be fitted with some type of safety catch that locks the blade in the closed position. Some models are designed with a ratchet system for cutting through a shoot in stages. These require less effort and cause less strain to the hands and wrist, but are slower to use.
If all you're going to be doing is cutting soft-stemmed plants like flowers, a light-weight inexpensive pair is probably all you need. For pruning fruit trees and shrubs with woody shoots up to ½ inch (1cm) thick, a pair of "professional" or "heavy-duty pruners" is a much better choice. Look for pruners that can be dismantled (by you) for sharpening and that replacement blades are available.
Long-Handled Loppers
A pair of long-handled loppers can be useful for removing slightly larger woody stems (½ to 1 inch thick), where smaller, hand pruners may become damaged. They also make it possible to prune stems that are high up or out of reach of other pruners. Because the long handles give added leverage, loppers make it easier to cut through thick stems. Like hand-held pruners, long-handled loppers come in both bypass and anvil designs (some with ratchet mechanisms).
When shopping for them, the most important thing to consider is their overall weight. They should be durable enough to do the job, but not so heavy that you can't extend your arms (or reach over your head) for reasonable periods of time.
Pruning Saws
Use a pruning saw for severing branches more than about 1 inch thick. Because sawing in a confined space between other branches (often at an awkward angle) may be difficult, various types of pruning saw have been developed. Because pruning saws need to be sharpened by a professional, the saws you purchase should have hardpoint, heat-treated teeth, which stay sharper longer than ordinary teeth. Handles are usually made of plastic or wood, and sometimes are padded. As with other pruning tools, you should choose whichever feels most comfortable and allows for a secure grip.
General purpose pruning saw: Invaluable for most pruning jobs, this saw has a small, straight blade (no more than 18 inches long), that makes it the ideal tool for pruning branches in confined areas and at awkward angles.
Curved saw: Like its name suggests, this saw has a curved blade and cuts only on the "pull" stroke. It is an excellent choice for confined spaces where it is easier to use pressure on a pull, rather than a push stoke.
Double-edged pruning saw: This versatile saw is equipped with teeth on both edges of the blade-one side coarse and the other fine. It can be difficult to operate in confined spaces without the top teeth damaging a nearby branch.
Bow saw: The sharp, variegated teeth on this saw cuts through thick branches quickly. It works great in open areas, but it's large, bow-shaped handle makes it difficult to operate in a confined space.
Tree Pruners: The tree pruners suitable for cutting branches up to 1 inch thick that would otherwise be out of reach. The cutting device is positioned at the end of a long pole next to a hook that is lowered over the branch to be cut. The blade is then pulled back and forth using either a lever system or a cord. Tree pruners may have saw and fruit-picker attachments.
Garden Shears (Hedge Clippers)
Garden shears are used mainly for trimming hedges, but they are also useful for shaping topiary, cutting back herbaceous plants, and clipping small areas of long grass that can't be accessed by a weed trimmer or lawn mower. Before buying, check that the shears are well balanced and the plates are not too heavy, or they will be tiring to operate. Standard shears usually have one notched blade to hold a thick shoot during cutting and are operated using both hands. Single-handed shears have a spring mechanism similar to hand pruners that allow them to be operated with one hand. Some types have blades that swivel-useful for cutting at an angle or vertically.