EllenB
Gold Post Medal for All Time! 858 Posts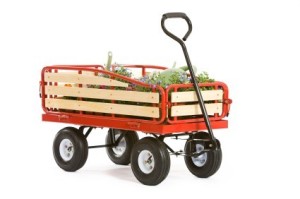 When faced with lugging plants, soil, other materials around the yard, wheelbarrows and garden carts are indispensable tools. As a means of transport, each has their advantages and disadvantages. Here are some side by side comparisons of their basic features, as well as some shopping tips if you find yourself in the market to buy one.
Wheelbarrows
Many variations of the garden wheelbarrow have appeared over the years, but most of the wheelbarrows you see displayed in big box garden centers these days are actually modeled after a contractor's wheelbarrow - sloped metal sides designed to haul cement.
Traditionally, garden wheelbarrows were made of wood. They had one metal wheel in front, a stabilizing leg on each side in the rear, and upright sides that could be removed for dumping. Today's wheelbarrows benefit from advances in design and feature things like double wheels for increased stability and square-shaped trays for added capacity.
Wheelbarrow Advantages
Maneuverability. With their narrow front, wheelbarrows can maneuver into tight spaces better than large garden carts.
Dumping. Wheelbarrows tip easily making them handy for dumping loose material like leaves, compost, soil, or gravel.
Design options. For gardeners who lack a shed or garage, collapsible or "ground flush" models fold flat for compact storage.
Wheelbarrow Disadvantages
Weight distribution. Since the load lies well behind the axle and wheel, the user bears is forced to bear a lot of the load with their arms, shoulders, and back.
Stability. Pushing most loaded wheelbarrows through soft earth is virtually impossible. The same is true for pushing a heavy load up a hill.
Garden Carts
Garden carts have either two or four wheels. Depending on the style, the wheels may be tall and thin with spokes, similar to bicycle tires, or be short and wide like those on a wheelbarrow. The body of a classic garden cart is made from wood panels reinforced by a metal frame, but many of today's models are made from metal or thick plastic. Some models have a fixed front panel, and removable panels on the sides. Others have flat beds with no sides at all.
Garden Cart Advantages
Weight distribution. The placement of the tires on garden carts means that the load lies directly above the axles and wheels. This allows the user to move heavier loads with less effort.
Stability. On a garden cart, the wheels are placed on either side of the load, which increases the load's stability and prevents it from tipping.
Capacity. Garden carts are great for hauling heavy loads and bulky cargo, like stones and firewood. The square shape of the bed also maximizes cargo room.
Garden Cart Disadvantages
Maneuverability. Flat beds can be difficult to maneuver on non-smooth surfaces and a garden cart is large, square shape doesn't fit easily into small spaces.
Dumping. Garden carts are designed not to tip, so dumping can be difficult unless you have a removable front panel.
Tips for Buying Either One
Read More

Comments

I am looking for deals on garden tools. I know these are expensive and it is difficult to find deals. If anyone can provide me deals I will be happy.
By Alisa M.
Answers

January 9, 2013
0

found this helpful
I think there are many stores that provide quality Lawn tools and mostly prices are same. But you can get these things discounted at Sears by using coupon codes as well. Sears always helpful for quality items with discounted prices. I have bought all of my home tools there from searching coupons from http://www.ezcouponsearch.com and similar other places.

January 9, 2013
0

found this helpful
Thanks for sharing Savvan, I just checked and there is many things to save.
Answer

this Question
This is a page about buying pruning tools. When buying pruning tools there are a number of things to keep in mind, first of which is getting the right tool for the job. You may need to have a variety of pruners if you have a large landscaped yard or garden.