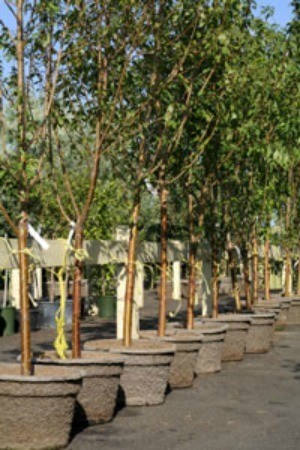 Trees and shrubs are a great way to add real value to your landscape. Because they have a lifespan that can potentially outlast you and your house, it pays to shop smart. A failure to plan can spell disaster down the road-for your trees and shrubs, and for your pocketbook.
DON'T buy trees and shrubs on an impulse. Buying a tree or shrub because it's on sale, because you love its show-stopping flowers, or because you think you will be able to find a place for it when you get home, is a bad idea. Trees and shrubs are not bedding plants. If they fail, you're not out the price of a tomato plant, you're out serious money.
DO take time to do your homework before you head to the store. Make your selections based on budget, site location, future growth, and year round suitability. Read up on the time and care required to keep the tree or shrub you're thinking of buying healthy (pruning, disease prevention, pollinating partners, etc.)
DON'T rely solely on salespeople for information. While sales people can be a great source of information, their job is to sell you plants. If you don't shop as an informed consumer, it's much easier to be seduced by a good sales pitch.
DO gather your information from multiple sources. This is not a concern if you already have a good relationship with the owner of your local nursery, but in larger cities, you may not know the person you're doing business with. Scan reference books and talk with garden experts from your county extension agency. Online garden forums are a great place to ask gardeners from your area about their experiences.
DON'T choose price over quality. Once you factor in the price it costs to remove trees and shrubs that have failed, the great price you paid for them no longer seems like such a bargain.
DO choose specimens based on overall health, and avoid specimens that show signs of injury or disease. Healthy trees and shrubs have strong stems or trunks, symmetrical growth, and shows signs of new growth. A tree's bark should be undamaged. Its trunk should thicken as it tapers toward the roots. Look for branches that are evenly spaced that have not been pruned at the tips.
DON'T take a short-sighted approach to future maintenance.
DO match trees and shrubs to your site. On average, people move to a new home every seven years. Take into account future growth so that the trees and shrubs you select now don't outgrow their welcome and cause problems for future owners.
Read More Comments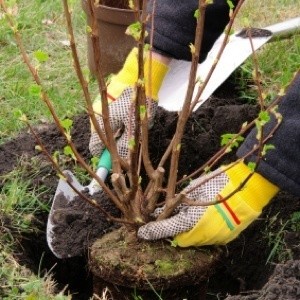 If you're thinking about adding some shrubs to your landscape, early fall is a great time for planting container-grown shrubs. The combination of warm soil and autumn rains encourages rapid root growth and cuts down on your need for watering. The nice thing about planting container-grown shrubs is that their rigid containers keep the roots well protected during transport. They also don't need to be planted right away. If life gets in the way after you bring them home, you can plant them a week or two later without doing any harm.
Start With Healthy Plants
Start by doing your research. Choose shrubs that are suitable for your specific climate and soil conditions. Don't forget to factor in the shrub's potential height and spread to avoid having to dig it up and move it later.
When selecting your shrubs, look for plants with healthy foliage. Inspect them carefully for any signs of insect infestations or disease. Avoid plants that appear wilted or have noticeable spots, scars, or burns on their leaves. When possible, ask to inspect the root ball. Many people overlook this important step, only to be disappointed a year later when their shrub mysteriously dies.
Don't buy plants that have large roots growing through the bottom drainage holes, or those with so many roots coiled around the inside of the container you can barely see the soil ball. Purchasing root bound plants such as these amounts to paying for stunted growth.
Prepare the Site
To prepare the site, dig a hole that is at least 2 times wider and 1 1/2 times deeper than the shrub's root ball. Remove any rocks or debris and loosen up the sides and base of the hole with your shovel. Mix in equal parts of peat moss and compost with the excavated soil. This will provide the nutrients necessary to encourage the roots to expand out from the original root ball.
Prepare the Root Ball
Water the shrub thoroughly. Once the water has been fully absorbed into the soil, tip the plant on its side and slip it out of its container. If necessary, use a pair of sheers or tin snips to cut open the sides. Gently tease the root ball (loosen up the soil around the roots) with your fingers. If a considerable amount of roots have entirely encircled the container, use a sharp knife to make four lengthwise cuts into the soil (1-inch deep) at even intervals around the root ball. This will prevent the large roots circling the root ball from girdling the shrub as it grows.
Directions for Planting
Set the shrub's root ball into the hole. Add or remove soil as necessary to ensure that the crown of the shrub (where the trunk meets the roots) is planted at the level as it was in the nursery container.
Backfill around the root ball, tamping down the soil with the handle of your shovel as you go so to remove any air pockets. If you're working with heavy clay soil, improve the drainage by adding in gravel or sand before filling in the hole.
Once the hole is filled, use leftover soil to create a 1 inch 1/2 dish around the base of the plant to collect water.
Water well.
Finish things off by surrounding the shrub with a few inches of mulch. This will help prevent moisture loss, smother weeds, and insulate the roots against the coming winter weather.
Aftercare
It is important to keep newly planted shrubs well watered going into autumn and during their first summer following planting. Water slowly and deeply, allowing the moisture to fully penetrate the soil down to the roots. Shrubs planted in the fall should not be fertilized for the first time until the following spring. Shrubs planted in the spring can be fertilized 8-10 weeks after planting.