I am planning my wedding on a budget and have an idea of what I want my centerpieces to look like, but cannot find any vases for a decent price. We are looking for clear glass (or plastic) vases that are at least 12 inches high and have roughly a 3-4 inch wide opening at the top. I am willing to buy used or second hand vases; anything that will save me money. Any advice or tips would be greatly appreciated. Thank you for your help.

By Courtney
Answers:
Looking for Vases for Centerpieces
Congrats on your upcoming wedding! I would start scouring The Salvation Army and other thrift shops. I once saw a lady buy a whole cart full of vases at Salvation Army for a banquet dinner that she was helping to put on. (12/14/2009)

By Charleen
Looking for Vases for Centerpieces
I agree with mamie. Check your local thrift stores (Goodwill, Salvation Army). The vases might not all match, but that may add to the charm (and besides, what guest goes around from table to table comparing centerpieces?).
I've never used freecycle, but I've heard good things. And I've heard people mention craigslist. I've heard some good things about craigslist, but I've also heard about some freaky stuff. Best of luck. I hope you have a beautiful wedding, and a wonderful marriage!
(12/14/2009)

By Lisa
Looking for Vases for Centerpieces
Check bravobrides.com. It is a site where wedding stuff is sold, mostly used. You can even sale them on the site once you are done with them! (12/16/2009)

By JB
Looking for Vases for Centerpieces
Have you tried Dollar Tree? (12/16/2009)

By yessy
Looking for Vases for Centerpieces
If you cannot find what you are looking for in the quantity that you need, I would like to suggest a website save-on-crafts.com. This site is awesome! It has lots of items for the DIY bride. If you are looking to do something with hanging organza, check out www.giftsintl-us.com. You can get 40 yards of 54 inche wide tulle for only $10. Check out these websites. (12/17/2009)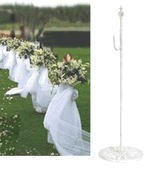 Looking for Vases for Centerpieces
Looking for Vases for Centerpieces
Try floating candle shaped flowers in fishbowls. Might be easier to get the items. (12/21/2009)

By Holly
Looking for Vases for Centerpieces
We found glass vases at Walmart after Valentines day marked down to .50 cents from $4! Also check Hobby Lobby and Dollar Tree. (04/10/2010)

By Lora
Looking for Vases for Centerpieces
Try wholesalefloral.com Cylinder Glass Vase 5x14, Cylinder Glass Vase 4x16 or Square Glass vase 3x3x12 $8.75 each (04/17/2010)