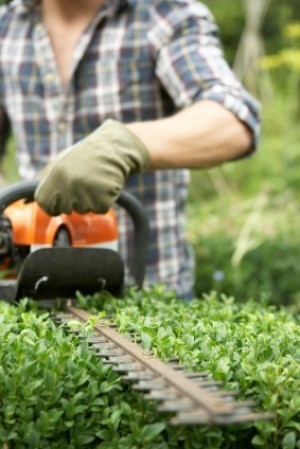 For gardeners with large hedges or multiple shrubs to maintain, a power hedge trimmer will save hours of time and energy over hand-held garden shears. Here are some features to consider before purchasing one.
The Blades
Since it is the blades that do all the work on a hedge trimmer, they are probably the most important feature to consider. Trimmers with high-carbon steel blades will last longer, cut more efficiently and can be sharpened annually to prolong their life.
Length: The longer the blade, the faster the hedge can be cut. A trimmer with 16 to 18 inch blades (best for small to medium hedges) is usually adequate for most residential gardens. If you have extensive amounts of hedges or large, well-established hedges to cut, youll want blades that are 20-inches or longer.
Tooth gap: The gap between the blades teeth determines the size of branch the tool can handle. For residential use, look for teeth with a 3/8 to 3/4-inch gap. In general, narrowly spaced teeth will produce a smoother edge and work well on smaller branches, while more widely spaced teeth will leave a slightly rougher cut and are better at managing thicker branches.
Action: Hedge trimmers operate with either single or double action blades. Models with double action blades, which move against each other, are the most common. Because they cut faster they are more efficient to operate. (They are also easier for left-handed gardeners to operate.) Models featuring single action blades, where one blade cuts against a second, stationary blade, are best for shaping and making precise cuts.
They tend to vibrate more than double action blades, so they can be more tiring to operate. They are safer to handle, however, as you can choose to always hold the cutting teeth away from your body while you work.
Gas vs. Electric Power
Hedge trimmers are powered by gas or electricity (cords or batteries). Each type has positive and negative aspects associated with it.
Gas powered hedge trimmers: Gas powered hedge trimmers require a gas and oil mixture to operate. They are the heaviest, make the most noise, require the most maintenance, and depending on the features, usually require the most up-front costs. On the positive side, they are far more powerful than electric trimmers and they allow the operator the freedom to roam about the garden untethered. Gas-powered hedge trimmers are ideal for commercial applications and for residential gardeners with large lawns and multiple hedges.
Features to watch for: Translucent fuel tanks. They make it easier to monitor fuel levels during use.
Electric hedge trimmers (corded): Electric hedge trimmers are convenient for small to medium lawns and hedges within 100 feet of a power supply. The trailing cord can be inconvenient (offering a limited range) and even hazardous if not properly monitored, and the machine must not be used in wet conditions. These trimmers are easy to start, quiet, and operate without emissions. Being lighter, they are also easier to handle than gas-powered trimmers. When buying an electric hedge trimmer, more amps will get you more cutting power.
Features to watch for: Pigtails. This refers to the short length of cord built into some electric trimmers that connects to an extension cord. A pigtail makes it easier to plug and unplug the hedge trimmer to the extension cord, and reduces the chance of it becoming disconnected while youre working.
Battery-powered hedge trimmers: Cordless electric hedge trimmers are powered by rechargeable batteries. To maintain full power, they must be plugged into a wall-mounted recharging unit after each use. They lack the power to cut thick shoots and may not stay fully charged long enough to complete large jobs. On the positive side, they are lightweight, easy to handle, and since there are no trailing cords, they present fewer safety hazards than their corded counterparts. Battery-powered hedge trimmers are excellent for small, regularly trimmed hedges and shrubs. They tend to be more expensive than electric corded models and less expensive than gas models. Eventually, the batteries will fail to hold a charge and they will have to be replaced (mine lasted for 10 years).
Features to watch for: Extra battery packs. A cordless trimmer with extra battery packs will offer extended runtimes for larger jobs, and because all rechargeable batteries eventually fail to hold a charge, having an extra battery will also extend the overall lifespan of your trimmer. Look for models with external battery packsbatteries that can be removed from the trimmer for easy recharging or replacement.
Other Useful Features to Consider
Poles and attachments - Some hedge trimmers come with extension poles that make it easier to trim hard to reach places. Attachments on other models allow you to transform your trimmer into other useful tools like a string (weed) trimmer, pruner, blower, edger, and even patio broom.
A Lock switch - This comes in handy for long jobs and saves your fingers from the fatigue of constantly having to depress the on-switch. It also allows the trimmer to lock in the off position to prevent children from accidentally turning them on.
Safety features - These include built-in features like tooth extensions (prevents legs and other body parts from blade contact), dual switches (requires two-handed operation for use), and front-handle shields (protects your forward hand from blade contact).
Comments
Read More Comments