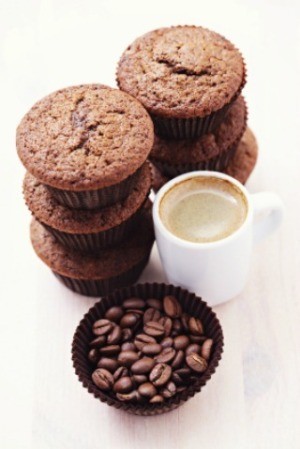 Ingredients
1 (15.4 oz) package pillsbury nut quick bread and muffin mix
1/2 cup unsweetened cocoa
1 Tbsp. instant coffee or instant espresso coffee granules
1 cup toffee bits
1/2 cup semi sweet chocolate chips
1/3 cup oil
2 eggs
1 cup buttermilk
Directions
Heat oven to 400 degrees F. Line 14 muffin cups with paper baking cups.
In large bowl, combine quick bread mix, contents of nut packet, cocoa, and coffee granules.
Mix well. Stir in toffee bits and chocolate chips. Add buttermilk, oil and eggs.
Stir just until dry particles are moistened.
Divide batter evenly into lined muffin cups. Bake at 400 degrees F for 19- 23 minutes or until toothpick inserted into middle comes out clean.
By imaqt1962 from illinois