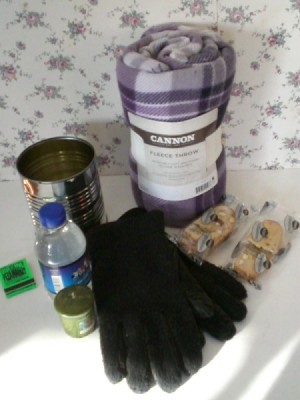 After a dear elderly friend got frostbite after she was stranded on a highway in her car due to an accident that stopped traffic for hours during a snowstorm, I learned some items that every car should have during the winter. They are a large tin can and substantial candle and matches to maintain warmth for longer periods of time.
Since it is recommended that you don't leave the car idling for long, instead turn off the car and light the candle and place it in the can and hold it. It will keep you and your hands warm while waiting. It is also recommended that you open your window a crack every once in a while. A spare blanket, heavy warm gloves, water and some healthier snack foods (bag of nuts, granola bar, etc) should be included in your kit.
It is also recommended that if you are ever in one of these situations (and for most accidents), you should not get out of your car. More people are hit by other drivers during these snow and multiple pile up type of events than if they just stayed in their cars.