Need help. I have a kitten and she won't stay out of my house plants. Every morning I find a pile of dirt laying beside the pots where she has been digging. Any advice would be appreciated. Thanks.
Becky
Answers:
chicken wire
To keep cats out of flower pots put small pebbles or a small piece of fine chicken wire on top of the dirt.
Joyce from Knoxville, TN (12/01/2000)

By admin2
moth balls
Becky asked what could be done to keep her kitten out of her house plants. I haven't used this in the house since my cats don't dig in the dirt of my house plants, but it worked for me outside. There I placed moth balls around my plants. It also keeps the rabbits away. She could maybe try using a tiny amount of moth crystals placed on a piece of foil so the moth crystals or mothballs don't get into the dirt. I know they are smelly, but it just might work. Dee (12/01/2000)

By admin2
plain black pepper
To keep cats from digging in house plants, sprinkle plain black pepper liberally on the soil surface. Worked for me.
Faye (12/01/2000)

By admin2
netting
Wrap the pot from the bottom up over the dirt to the stalk of the plant with netting. Tie loosely enough that it won't hurt the plant. Because kittens are so curious and also eat things they shouldn't make sure that any poisonous plants are up out of her reach.
Susan (12/01/2000)

By admin2
lemon oil or eucalyptus oil
My cat did the same thing. I was told to buy a small bottle of either lemon oil or eucalyptus oil and mix a few drops of either one with water in a spray bottle. I spray around my plants or any part of the house I don't want "destroyed" (i.e. carpet by the front door...). Cats don't like the smell of citrus or eucalyptus. Meow!
Melinda (12/01/2000)

By admin2
Kitties in the Plants
I found an electric fence gadget at a hardware store and plugged it in by my front yard, several times late at night I heard the cats "scream". After a week or so I didn't have any problems and am happy to say that there were no deaths. I highly recommend them. My neighbor just bought one. (03/28/2004)
By Mark
Kitties in the Plants
Lay some bananas on top of the soil this should help or use a spray bottle and spray him. It works for me. (02/06/2005)

By thunderbabe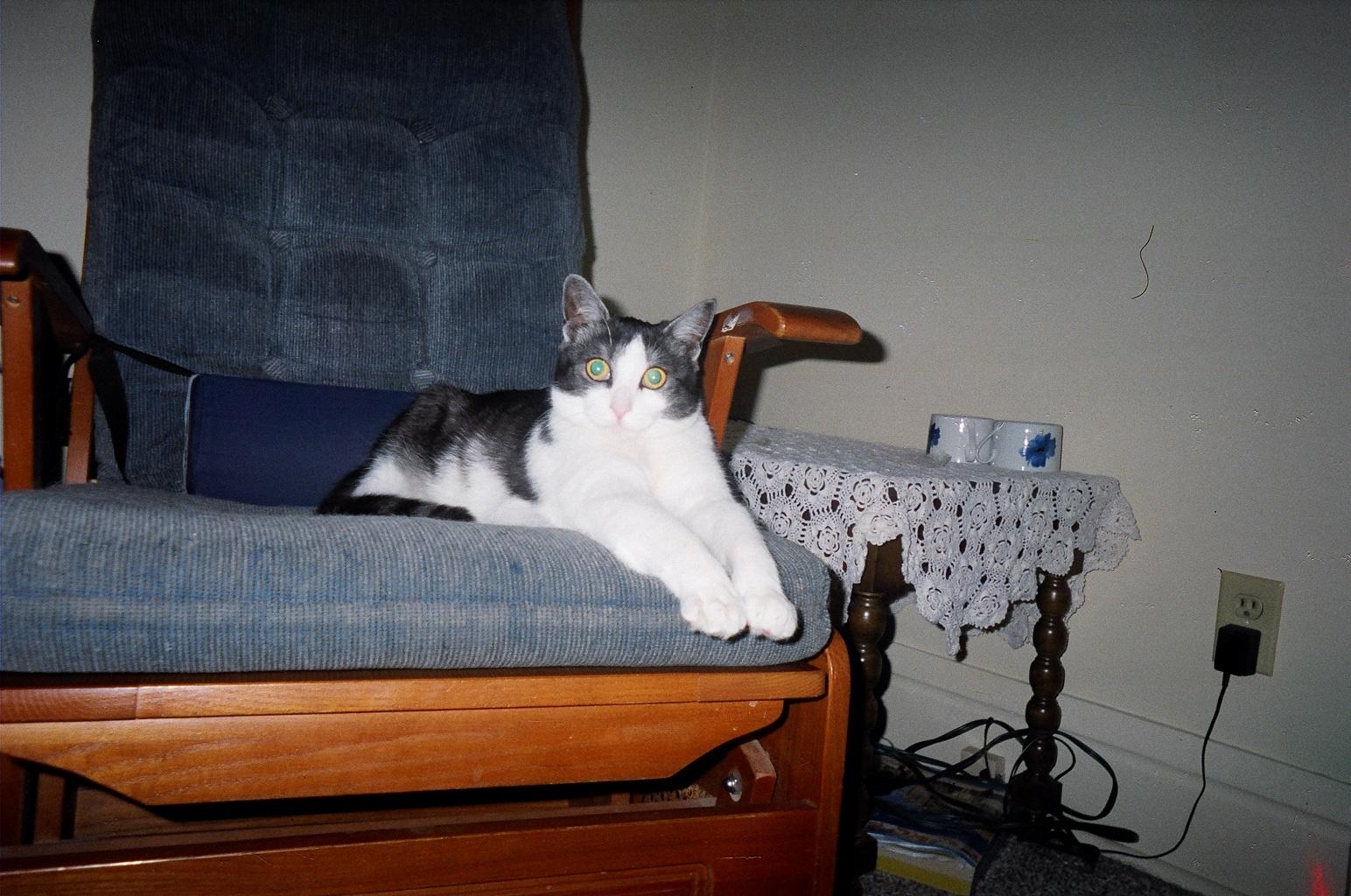 Kitties in the Plants
Thank you everyone for your numerous and helpful suggestions on keeping cats out of my garden. I shall try some of these and see what happens. Also, I bought some black fabric type covering to put over my garden soil to help keep the weeds out. Maybe that'll help deter the cats, too. Sure hope so. I know my neighbors don't want to come over to clean up the cat dodo.
Thanks again and God bless.

Mary M.
twstr (04/22/2006)

By Mary
Kitties in the Plants
For indoor kitties, provide them with their own, a cat nip pot or something, so that they stay out of the others and get the fiber and "fix" they need. Just keep chives away: my mother's cat fixed on it, and he loved to snuggle and fart in my face. Tuna and chives. (04/22/2006)
By camo_angels
Kitties in the Plants
I just read in several other web sites that moth balls are toxic to cats, so that would not be the best method. I am going to try the pepper idea, as my kitten has now gotten used to being sprayed with water. (09/24/2007)

By Connie
Kitties in the Plants
My husband brought home 3 homeless kittens in the dead of this cold winter, so they were inside with us, and wanting to use the planter for their bathroom business. This is how I drove them away from it: Put a small dish in the dirt, and place a paper towel soaked in ammonia in the dish - refresh when necessary. They won't even come close to the plant. (05/20/2008)

Kitties in the Plants
Just cover the plant because no matter what you do the darn cats will soon forget and go right back to the plant. (07/27/2008)
By Blazing