My cat is three years old and just started a new habit now. He likes to poop next to the litter box instead of inside it. I have not changed litter or my litter box scooping habits (once a day scooping and once a week it is completely cleaned out with Clorox wipes and water). So I don't know what his deal is. Any ideas?
Annoyed with my cat from Omaha, NE
Answers:
Cat Stopped Using Litter Box
Please consider making this cat an outside cat. Our Siamese had been urinating in the house for awhile before we found it. He would spray the door facings outside of each bedroom and the carpet soaked it up and nobody could see it. That particular house was old and had very old nasty carpet so we thought that was the source of the smell.
When we began ripping up the carpet we discovered what had been happening. We loved that cat and didn't want to lose him so he just had to live outside. He had always been an in and out cat anyway. We set his living quarters up in the garage and he adjusted fine. He seemed (to us) to have no reason for doing what he did, just like your cat. I think you can't always figure it out. (11/11/2008)
By Glenn'sMom
Cat Stopped Using Litter Box
When my one cat just out of the blue started pooping outside the litter box and after making sure he was healthy I just put down a second box. Sure enough, he just didn't want to do both in one place. Made cleaning the litter easier too. (11/11/2008)

By mamamh
Cat Stopped Using Litter Box
I have the same problem, but my cat will go to the bath room right in front of me on the floor. I think that it is a sign that she wants me to clean her litter. So I do and than she is good for the time being and she will do it again the next time it is not up to her standards, but hope did helps.
cat lover 1
(11/12/2008)

By
Cat Stopped Using Litter Box
First of all have there been any changes in your life? Everything that happens to you happens to your pets too. Maybe use baking soda to clean and sanitize your cat box instead of Clorox wipes, the lingering smell might be to strong for her sensitive nose. Put a food dish on one side of her box and a water dish on the other side. Spend more time with her if possible, maybe she likes the attention (however) you give her when she does this. Lastly my cat did this and turned out he had a bladder infection. So maybe a trip to the vet would be in order. Remember she is not doing this to make life hard for you. (11/13/2008)
By Jann W.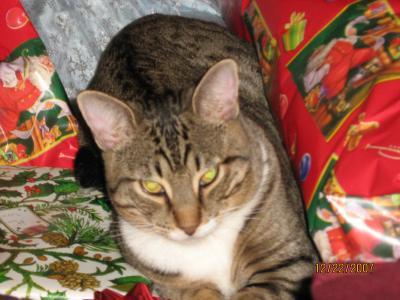 Cat Stopped Using Litter Box
I agree with everyone and one more thing the Clorox wipes are not good to use on the plastic cat boxes the scent stays in the plastic after awhile. I use baking soda to wash mine out with and it comes out just as clean. Throw that cat box out and get you a new one and see what happens just remember to clean it with baking soda and take your cat to the vet he might have a urinary infection. Good luck. (11/18/2008)
By candleglows
Cat Stopped Using Litter Box
I have found that my cat will poop on the floor if she feels she's been overlooked or is not getting enough attention. I was going through some tough times and for some reason I did not want to pet my cat or show her any affection. She exhibited this behavior from time to time. Now that I'm feeling better she no longer poops on the floor. (02/09/2009)

By Kathy