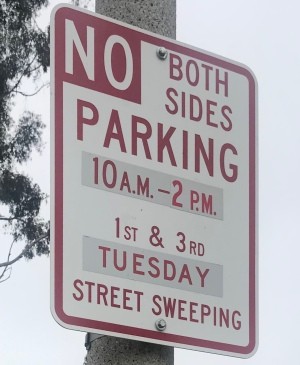 Here is my lesson learned that resulted me in paying a $60 ticket that I wanted to share with you all. Be sure to check street signs carefully, especially street signs on both sides of the road even if you plan to park on just one side.
I was in a new area and parked my car on the side of the road that looked completely normal/fine.
- There were other cars on the same side as I.
- There were cars parked on the other side as well.
NO signs posted on the side I parked my car on. BUT, across the street there is a sign that says "NO PARKING BOTH SIDES" which I found out after I received a street sweeping ticket. So that one sign across the street is for BOTH SIDES of the road, can you believe that? Why so tricky?
I tried to appeal the street sweeping ticket because:

The sign is not visible from where I am parked.
I drew out a picture of where I parked and where the sign is located and I do not even cross the sign in any way and coming from the direction (side I was parked, I do not see this sign).
Why is there no sign on the side I'm parked on
I am new to the area and have never had the ticket.
I was denied. You could appeal in court, but I didn't and just paid the ticket/fine, but really disappointed how they couldn't make an effort to place a sign on both sides.
During this time, money could be tight - reminder to double check where you park, look at times/days on street signs.