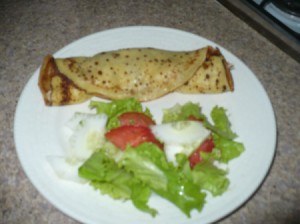 Here on the islands we eat crepes like Americans eats pancakes. I live in a French territory with a French influence when it comes to cooking. Every restaurant here on our islands serves crepes for desert. You can find crepes filled with fruit, chocolate, or a variety of other sweet fillings. They top this off with whipping cream.
However, crepes are not only for desert and they can be filled with different meats and cheeses and baked in the oven. Most of the restaurant will fill the crepes with ham and cheese and serve them with a salad. I prefer to make my crepes a bit different. If you are looking for a different meal to serve your family, I suggest you try this recipe.
Prep Time: 45 minutes
Cook Time: 15 to 25 minutes
Total Time: 1.5 hours
Yield: 8 stuffed crepes
Ingredients:
2 cups milk
3 eggs
1 cup flour
1 Tbsp sugar
5 Tbsp butter, melted
1/2 tsp salt
1 onion, diced in very small pieces
2 bell peppers, seeds removed and diced in very small pieces
1 tomato, diced in very small pieces
2 chicken breast, cooked and diced into very small pieces
8 oz grated cheese*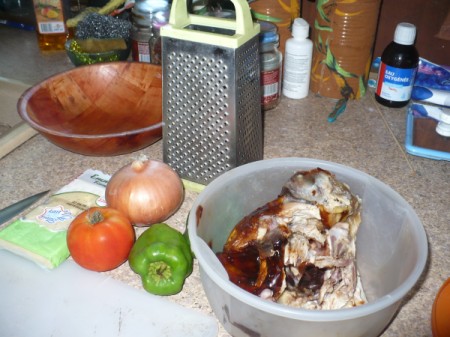 * I normally use a Swiss cheese when I make this.
Steps:
It is necessary to prepare your crepe batter and allow it to sit in your refrigerator for 2 hours.
In a blender, add your milk, eggs, sugar, flour, and salt.

Mix the ingredients in your blender.

Melt the butter and add this to your mixture. The butter shouldn't be too hot when it is added.

Mix well and put the covered container in your refrigerator for 1 to 2 hours.
Prepare your ingredients for your crepes. Dice up your onions and put them in a mixing bowl.

Dice up your tomatoes and add them to your mixing bowl.

Dice up the bell peppers and add them to your mixing bowl.

Dice up your chicken and add it to your mixing bowl.

Mix all the ingredients so they are well mixed. This is what you'll be adding to the middle of the crepes.

Grate your cheese. I like my cheese grated really fine.

Cook your crepes. When I cook crepes I just add a small amount of butter to my crepe pan for the first crepe.
Pour the crepe batter into the crepe pan and tilt the pan to cover the bottom of the pan.

When the crepe looks a bit dry on the top, turn the crepe over and cook the other side.

I normally make one crepe and stuff the crepe before making a second one. This works out better and it is easy to work with.

Place a generous portion of your crepe stuffing in the middle of the crepe and add a small amount of cheese on top of the stuffing.

Roll the crepe up and place it in a casserole dish that you have slightly buttered.

Finish cooking the crepes and stuffing them.
When you have finished adding all your crepes to your casserole dish, top the crepes with the remainder of your cheese.

Bake in a 350 F oven for 20 to 30 minutes or until the cheese has melted and is nicely brown.
Remove from the oven and serve this with a nice salad.
This makes a delicious meal and everyone will love the sweet and salty taste. You can make a cream sauce and pour over the top of your crepes or just serve the crepes as is. I prefer to just serve my crepes like this and not add a cream sauce to mine. There are many people who love cream sauces and will add this to the top of their crepes. Here on the island people normally only make stuffed ham and cheese crepes. I prefer to add a few vegetables to mine and make a complete meal.
Add your voice! Click below to comment. ThriftyFun is powered by your wisdom!

January 21, 2019
0

found this helpful
This looks like the most delicious thing I've seen in a long time! I've never made a crepe before but with THESE directions I'm gonna try soon!
Add your voice! Click below to comment. ThriftyFun is powered by your wisdom!