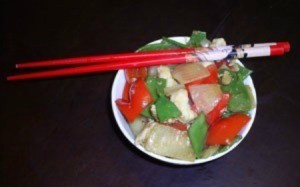 These meals are intended to be a relatively simple and healthy weeknight meal for a family of four. We assume that these dinners are being made in a kitchen stocked with regular kitchen staples. We will not include prices of oil, sugar, flour, spices, etc. unless you need a substantial amount or it is unusual. Regional food prices may vary and can be reduced by smart shopping techniques.
Shopping List
1/2 lb. chicken breast

$1.48
1 medium onion
$.99
1 head garlic
$.50
1 Bell Pepper (any color)
$1.49
1 Snow Peas 1/4 lb. (big handful)
$1.00
Total Cost = $5.46
Staples
Cooking Oil (Canola)
Soy Sauce
Cornstarch
Rice
Directions
This is a very quick dinner but there is bit of prep and attention that is needed. Expect that you will need about 20 minutes in the kitchen before it is ready to serve.Start the rice first. I always use a rice cooker because I burn rice on the stove but you can do it whatever way you like. You will want at least 2 cups of cooked rice, more if you want leftovers.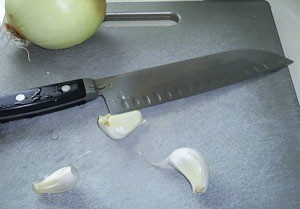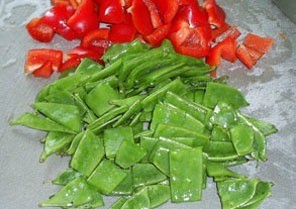 Mince about 3 cloves of garlic and chop onions into bite sized pieces. Set aside. Chop pepper and snow peas approximately the same size. Slice the chicken on the short side into 1/2 inch strips, so they will cook quickly. I like to chop everything and have it ready to go in the pan, buy you can do it in stages if you are on top of things.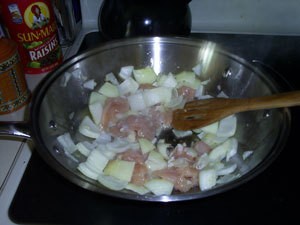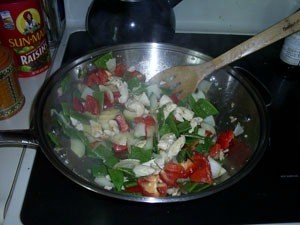 Heat about 1 Tbsp. oil in a wok or large frying pan at a medium high heat. Add onion for a minute, then garlic for about 30 seconds. The onion should be softening. Add chicken and cook together until no more pink is showing, 3-4 minutes. You will want to stir regularly for even cooking. There are wok spatulas for this but a wide wooden spoon works as well. Mix 3 Tbsp. soy sauce and 1/4 cup water together and set aside. If you would like a thicker sauce, add a little cornstarch and whisk it all together in a small bowl, removing lumps.
Set aside. When the chicken is cooked, add the peppers and peas and toss thoroughly. Add the sauce and mix again. Cover and let steam for a minute or two. If you have opted for cornstarch, you may have to add a bit more water at this point. Make sure the veggies are done and serve over rice. You can turn the heat off and keep this up to 15 minutes but the faster you serve it, the fresher the vegetables will be.
*Note: I put soy sauce and rice in the "Staples" list because I use them both at least once a week and buy them in bulk. If you need to purchase them separately, they should only cost you a few dollars and this still should be under $10 for the total.
Tips:
You can replace the meat with chicken thighs, pork or beef. Leftover meat is also good, just warm it up as the last step instead.
I like to trim off the fat and loose pieces off my whole chicken breasts when I get them home from the store. Then I save the little pieces for a stir fry and use the trimmed breasts for grilling or baking. I do this to sale roasts too, some for beef stew, some for stir fry.
Marinate meat overnight in soy sauce or garlic for added flavor
Picky kids? Add a can of pineapple toward the end of the cooking and use a yellow pepper. You can also get a teriyaki sauce or make your own with the pineapple juice, soy and a little sugar. If they don't like rice, put in cooked ramen noodles or spaghetti at the end instead.
Make any substitutions or additions to the vegetables, depending on what is in season or what you have on hand. I like to use broccoli, mushrooms and zucchini. Cook hard veggies, like carrots, early and let them steam to soften and add soft veggies, like bean sprouts, at the very end.
If you have veggies that you are worried about using up before they go bad, just cut them up for stir fry and freeze them. This will save you even more time and money later on.
Need a vegetarian meal? Add nuts or seeds to the stir fry instead of meat. Sometimes, I have cooked meat separately and served it on top of the bowls for the carnivores.
Comments
Read More Comments