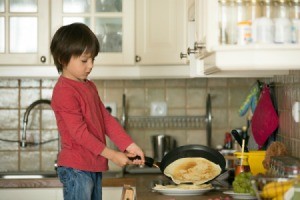 When I was a Cub Scout leader, we made these often. They were such a big hit, that most of the boys asked for the recipe so they could make them at home, and my own boys did too. They are versatile and fun to make. It's good coordination practice for little ones, who are thrilled to be able to make their own snack or dessert, and it keeps them busy for a while! The adults like them too! We still like to make them even now that my boys are older.
The base is pre-made crepes that I usually find in the fruit/vegetable section of the store. The kids also like burrito-size tortillas. Sit the kids around the table with a crepe on a paper plate or sheet of wax paper. On the table, set out some bowls with pre-cut bite-size fruit such as bananas and strawberries, or whatever you like. Each kid gets an open container of pre-made individual pudding and a plastic spoon.
Show them how to spoon the pudding into the center of the crepe/tortilla and spread it out a little, (as if they were making a burrito) without touching the sides. Remember you are going to be adding fruit, so they don't want to use the whole container of pudding or it will be an oozy mess (which some kids like). You can actually split one container of pudding between 2 kids, but I found they'd rather eat what doesn't go in the crepe or make a second one!
Once the pudding is spread (and fingers are licked), let the kids choose their fillings from the prepared fruit. They will lay this over the pudding, be careful they don't put too much or it won't fold. Now, show them how to fold and roll this like a burrito - then let them eat their creations! YUM!
Note: Room temperature crepes are easier to fold than tortillas, which tend to split. They will all split and leak if over-filled, but kids don't seem to mind the mess!
Fillings are very versatile. Chocolate or vanilla pudding with sliced bananas and/or strawberries are the biggest hit, especially with picky eaters. The only limit is your imagination, what you are willing to eat, and how healthy you want it to be. Other fillings can include chocolate chips, nuts, coconut, whipped cream, chocolate syrup, etc. A decadent, delicious version is a crepe layered with vanilla pudding, sliced strawberries and bananas, nuts, and chocolate syrup with a spoonful of whipped cream to dip the crepe into - banana split crepe!
If you don't know how to roll a crepe/burrito, here are some instructions. This one shows to leave one end open,which works with this dessert. But you can also fold over both ends before you roll, if you are going to make ahead and don't want the filling to fall out:
Source: Learned at a training class for Cub Scout leaders many years ago
By Judy = Oklahoma from Oklahoma
Comments