Crepe Recipes
Solutions
Share on ThriftyFunThis guide contains the following solutions. Have something to add? Please share your solution!
January 4, 2010
7

found this helpful
Crepes can be filled and topped with just about anything your heart desires for breakfast, lunch, dinner or as a dessert. If using crepes for a meal; chop or shred the ingredients before cooking/heating them. Whether for a meal or as a dessert; once crepe is filled just fold, wrap or roll your crepe and top with whatever you choose. A yummy dessert recipe is below ;-)
Ingredients:
1 cup all-purpose flour
2 eggs
1 1/4 cup milk
1/4 tsp. salt
2 Tbsp. butter, softened, plus more for coating frying pan
Directions:
Whisk or blend all ingredients together in a large mixing bowl or blender. Heat a lightly buttered frying pan over medium to medium high heat. Pour 1/4 cup of the batter in to the frying pan and tilt the pan in a circular motion so that the batter coats the surface evenly.
Cook the crepe for about 2 minutes or until the bottom is light brown. Loosen with a spatula, turn and cook the other side. Keep warm while cooking the other crepes.
Banana Dessert Filling
Ingredients:
2 bananas, sliced
2 tbsp butter
Vanilla or Chocolate Ice cream
whipped cream (optional)
Directions:
Cook bananas in butter over high heat until soft, about 2 minutes. Divide filling among 4 crepes and roll up. Serve with a scoop of ice cream and/or top with whipping cream.
Ingredients
1 egg
2 Tbsp. sugar
1 cup all purpose flour
1/2 tsp. salt
1 cup milk
2 Tbsp. melted butter
Directions
Beat egg, add sugar, salt and butter - mix well. Add milk a little at a time to prevent lumping.
Cook on slightly oiled frying pan. Cook until golden brown on both sides. Serve with fresh fruit, maple syrup or jam.
This recipe can be made in advance and frozen. To use, remove from freezer the evening before.
This is my favorite type of crepe as it reminds me of marshmallows cooked on an open fire.
Source: My mother-in-law gave me this recipe.
By Karyn from Ottawa, Canada
May 24, 2017
0

found this helpful
Crepes originated in France but now these delectably thin pancakes can be enjoyed throughout the world. This is a guide about making crepes.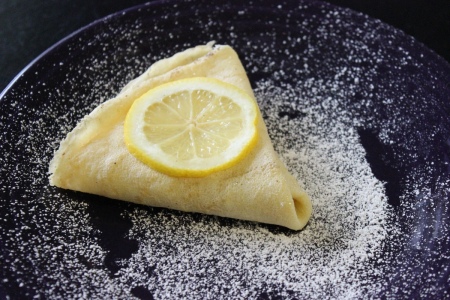 December 13, 2016
0

found this helpful
This guide contains recipes for banana crepes. Add banana to thin crepes for a wonderful flavor combination.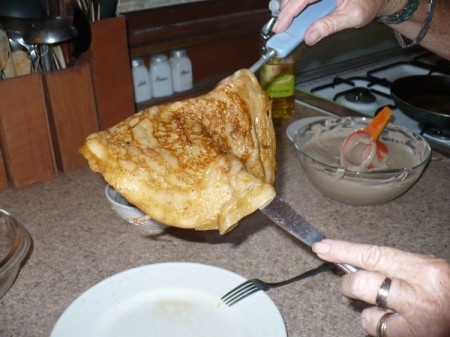 August 13, 2016
0

found this helpful
This is a guide about quick and easy crepes for kids. Crepes don't just have to be just for a fancy brunch.
Kids will love preparing their own crepe snacks for a party or just as a snack between meals at home.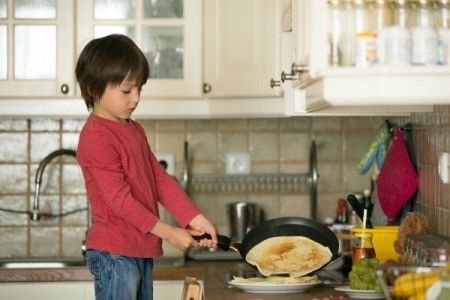 Combine pancake mix with 1 1/4 cups milk, 1 Tbsp. butter and egg in bowl. Stir lightly until just mixed. Pour 1/3 cup batter onto hot, lightly buttered griddle. Bake until set. Turn to brown other side. Saute' onion and celery in 1/4 cup butter in skillet until tender.
Read More...
In a small mixing bowl, beat eggs, milk and butter.combine the flour, salt, nutmeg and cinnamon; add to egg mixture. Cover and refrigerate for 30 minutes.
Meanwhile, in a large saucepan, combine the sugar, cornstarch, cinnamon and nutmeg.
Read More...
Combine flour, sugars, baking soda, baking powder and salt. Mix together. Add eggs and extract. Mix again. Now melt butter into frying pan and pour into bowl. Mix again. Pour some of mix into pan. Place heat on low. Spread mix so it covers the inside of pan evenly.
Read More...
I make my pancake batter thin, then I put it in a hot frying pan and spread the batter thin. Brown both sides. Then take a can of cherry, apple or blueberry pie filling and fill crepe. Roll crepe seam on bottom and top with powdered sugar and cool whip. It is a family fav.

By Bonnie from Saint Petersburg, FL
Related Content