I am trying to baby proof for 15 month old triplets without going broke. What are some ideas for cabinet locks, toilet locks, stairs, etc.?

Mom2Trips from Erwin, NC
Answers
October 13, 2008
0

found this helpful
Try the Dollar Store for cheap light switch covers, cabinet locks and things like this. I bought a ton of things like this at the Dollar Store when my grandbaby was born. Good luck!
October 14, 2008
0

found this helpful
My daughter's twins are also 15 months old. Her living room looks like no one is living there. The coffee table is long gone. Every picture is pushed very far back on tables. She uses those "rubbery" corners for the tables and a small strap that goes on the refrigerator door (we also have these in our home for the little darlings).
My daughter shuts the bathroom doors so they can't get near the toilets. When she visits, we use gates that we used to have for our dog. I really don't think there is a cheap way of preventing accidents. Before we got the "rubbery" corners on our staircase, the little fellow got quite a bang on his head.
Good luck to you with your triplets.
By Barbara (Guest Post)
October 14, 2008
0

found this helpful
Here goes go to the dollar store or dollar general or babies are us. They do have some stuff that is not expensive. Next take all your favorite knick knacks and mementos and put away. Either put rounded corners on the coffee table or rearrange to put the coffee table against the wall. Rooms that you don't want the kids in just get a chain with a lock at the hardware stores and just put them on the outside of the doors. Doors are open but sweeties can't get in. Knives go up to the cabinets and any sharp things. Have a designated area that they can play in and get plastic containers at dollar store or general to organize the area.
Get gates at Walmart can use kids or pets ones who cares and remember home will never be the same but love will be in triple sizes now. As long as no bugs on the floor and could get a dog to help clean the floor (ha-ha). Also as long as you have clean clothes for the day and plenty of milk and diapers and know what to make for lunches and supper you are going to be a ok. Oh no sand in the house horrible to clean up dry rice and spaghetti noodles a pain but not too bad.
By (Guest Post)
October 15, 2008
0

found this helpful
We had 2 close together and were on a tight budget too. It was worth every penny to buy toilet lid locks. The type with the swinging arm work best. I did not want to have to worry about one of them in the potty while I was changing the other.
By Natasha (Guest Post)
October 19, 2008
0

found this helpful
First thing, I would definitely spend the money for a decent, unclimbable gate for the stairs. My son can climb the $10 wood and plastic gates in less than 10 seconds, and he started that around 14 months. So don't skimp there.
We keep the bathroom door shut, that way we don't have to worry about toilet seat locks or him climbing into the tub.
I have eliminated the need for cabinet locks by storing all the dangerous cleaners in the cabinet above the sink. In the lower cabinets I keep plastic bowls and a basket of lids. I have to pick them up often, but it keeps him busy while I cook and also helps him learn because he matches the lid/bowl.
Answer

this Question

...
My husband and I recently found out that we are expecting. We are currently renting a 2-bedroom home from from a couple in our church and cannot afford to purchase a home of our own. My mom's cousin is offering us a complete Winnie the Pooh crib bedding set that includes a lamp, but we are not allowed to paint, etc. What can we do to decorate the white walls and make it seem more like a nursery? Also, any other childproofing, toy/supplies buying, or the like tips would be greatly appreciated.
Thank you in advance,
Jeggie from Elberton, GA
Answers
May 6, 2006
0

found this helpful
First off...CONGRATULATIONS! I love the excitement of new additions! Please enjoy this time as much as you can...and take great care!Lowe's and Walmart both carry "nonpermanent" borders, but check with your landlords first if just a border is fine. Or find large posters and put them in poster frames. Babies won't notice them for at least two-four months, so it is up to you if you want to wait. Stay away from stuffed animals if you can (or limit them) because all they do is collect dust! I had one or two little ones for my boys, and they latched on to those, then never played with them after they started walking! Safety 1st makes a great childproofing kit, with cabinet latches, outlet covers, and tips to keep your home safe; I would advise doing this while they are still in the swing or not crawling.....
A swing is real good for little ones, and a playpen when they start sitting on their own. JcPenney is the only place I know that sold the crank model by Graco (that was in 2001) and my oldest only used it for three months (he weighed 20 lbs at four months!). And expect them to grow out of clothes VERY quickly....I'd advise stocking up on "neutral" 0-9 months now at EVERY garage sale you see. These sizes are usually almost new or never worn. People may buy you layette sets as you get closer, or find out the sex, so use those for special outings and pictures. A baby monitor is A MUST! I have the Safety First one like in the movie Signs...very creepy! lol Please try to Breast feed for as long as you can, but sign up for all those Enfamil/Good Start formula clubs, even if you are breast feeding! They will still give you lots of information and free baby stuff, plus it is nice to have the formula on hand in case of emergency.
Now, for home cleaning....PLEASE beware of regular household cleaners, with both fumes and extra additives that can hurt both you and the baby! I use Shaklee cleaning products: they are 100% effective, natural, and biodegradeable. Also, they are superconcentrated: one bottle of basic-H replaces most anyother cleaner, and last the life of over 200 bottles of windex and formula 409. They also have the most fabulous supplements on the market today (used by the US Ski team at Torino!) Check them out at www.shaklee.com, and if you have any questions, please email me at healthy_home101@hotmail.com my ID # is ZM06763, and I can help you if you are interested in starting your own business with them. Congratulations, God Bless all of you and please let us know how you are doing!
Kelly
By Jeggie (Guest Post)
May 6, 2006
0

found this helpful
Thank you so much. This should help out a lot. I was wondering though...I've heard about making your own laundry soap and was wondering if there was one for baby laundry soap out there anywhere. I was wanting to wash at least mine and the baby's, if not my husband's as well, in it, since we will be holding the baby so often.
Thanks again
May 6, 2006
0

found this helpful
I used the borax/washing soda/regular soap mix, like Fels Naptha in the laundry aisle or I use Pure&Natural, and it is gentle enough for baby clothes:
1/2 cup Washing Soda
1/2 cup Borax
1 cup Grated Soap
Mix together and use 1 TABLESPOON for med/light soil, 2 TBSP for heavy/large.
WARNING: If you have asthma or other respiratory problems, this will travel up your nose and lungs, even just measuring it out! Other people say to use a mask when mixing; I do not have asthma, and have trouble using it. That was my other reason for switching to Shaklee, they have a fragarance free powder that is dust free, and super concentrated to the same proportions.
By Jeggie (Guest Post)
July 27, 2006
0

found this helpful
Do you use the boxed soap flakes or a bar of grated soap? If using the bar of soap what kid is best for baby's skin?
September 17, 2008
0

found this helpful
You can find some great baby furniture ideas as well as other baby tips here:
Good Luck!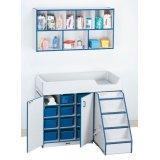 Answer

this Question

...