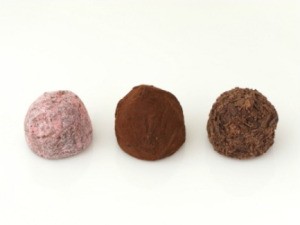 This is a recipe from when I was a kid that I would sit and do with my grandmother. Very yummy! We would also make them up for my grandfather who was a diabetic. So he could have a treat.
Ingredients:
1 bag of chocolate chips
1/4 of a cube of paraffin wax or leftover from jam (cleaned)
Left over mash potatoes or fresh made ones
1/2 cup to 1 cup of powdered sugar
vanilla (optional)
Directions:
Melt your bag of chocolate chips and clean paraffin wax together until runny. Take mashed potatoes, mix in sugar (opt. vanilla) to taste. Put into fridge to get hard.
Take a spoonful and roll into balls dipping into melted chip mixture. Set on wax paper to get hard.
You can do this with peanut butter instead of mashed potatoes. No preservatives, fresh healthy candy. Less calories also. I have also put in coconut flakes to make almond joy. Makes wonderful gift, too
Source: Recipe from grandmother.
By Roxi from Seattle, WA
Editor's Note: You could also use artificial sweetener instead of the sugar.
Read More

Comments