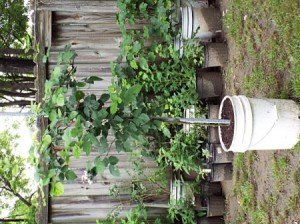 I've said that my passion is propagation. It is. A close runner up would be experimentation. My latest experiment is standardizing blackberries.
Most everything I grow is grown in containers. I experiment with the size of containers, always trying to find the smallest container a plant will thrive in.
I experiment with mediums, looking for the most fertile soil or other medium for my plants. I mix all my own, starting with mulch from my own mulch pile.
Over the years, I've found that usually the 'rougher' the medium, the better. I used to sift out small twigs, unrotted leaves, pieces of bark and such. Now I leave all that in. Not only do these items add nutrients as they break down, they add greatly to the drainage and air availability to the roots of the plants.
While I am opposed to disfiguring plants, such as in the case of plaiting several ficus trees into one (I think they look ridiculous), I do like to experiment with the shaping of plants to increase yield, make harvesting easier, and make protecting the plants from birds and such, easier.
If you like blackberries, these too can be grown successfully in containers. The University of Arkansas Blackberry Breeding Program has put forth much time and effort into developing several varieties of thornless blackberries. Most all these new varieties have native American tribe names.
Each variety has it's own set of characteristics. The Navajo is said to be one of the sweetest, however, it does not produce a heavy crop and the berries are quite small.
Next in line in sweetness (if I remember correctly) is the Apache and then the Arapaho. Both produce nicely and disease resistance is good. The Apache and Arapaho are both usually available in season at most garden centers. There are berries even sweeter than these mentioned, but they are usually harder to find.
The pictured plant is neither of the above named varieties. It is the Black Satin variety. I purchased four of these plants online without doing any research. It too, is a thornless variety.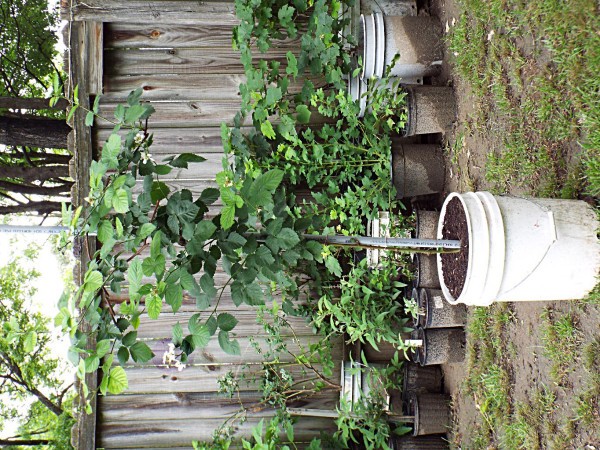 I made my purchase 3 years ago. I found that blackberries are very easy to root. Now, I have about 30 plants of various sizes. I am trying to find a home for all these plants.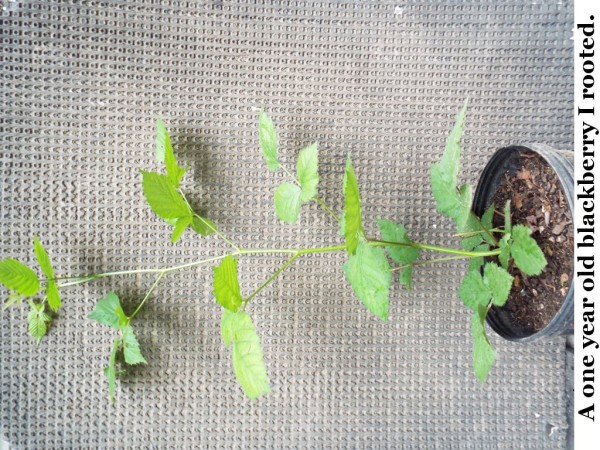 Why would I give away all these plants after putting so much work into them? Well, I like a blackberry with enough sweetness, it can be eaten right off the bush, if desired.
The Black Satin berry is very tart. In my opinion, it is only suited for making jams, jellies, and wine. Though it is thornless, bears well and has good disease resistance, you should steer clear of it if you want a sweet berry.
All is not lost. I have learned a lot by growing and training these Black Satin berries. That knowledge will be applied to the new Apache and Arapaho plants I purchased earlier this year.
I mention the Apache and Arapaho because they are usually available. There are several more thorny and thornless varieties which have been developed, both erect and trailing. I have chosen to work with the Apache because it is thornless, bears well, and is sweet. I also chose it because of it's erect habit which should make it more suitable for training as a standard.
If you are into blackberries, particularly the newer thornless varieties, take a look at the site below. You will find out more than you ever wanted to know about them.
One thing in particular you might want to read about in these charts is the 'Brix' value of each berry. The sweetness of blackberries is rated in brix. The higher the brix number, the sweeter the berry.
Oprah said "The blacker the berry, the sweeter the juice". But then, I doubt she knew her brix from her cinder blocks.
http://organic.kysu.edu/PomperBlackberry09.pdf