I need help on some inexpensive gifts for my son's teachers. I have typed a short story in smaller print in order to fit on 2 pages of copy paper (used card stock for better quality), then inserted an appropriate picture at the end. He has 10 teachers, and I've made each picture different. My problem now is how to frame or display the pages to give as a gift.
I had originally thought of buying double hinged 8 x 10 picture frames but am now wondering if I'll be able to find enough inexpensive ones. I've checked at our local dollar stores with no luck. I've also thought of making wooden plaques but don't know if I'll have time to do this. I'd like for it to be able to be hung on the wall. Does anyone have any other ideas? All help is greatly appreciated!
Leah from Shelbyville, TN
Answers:
Christmas Gift for Son's Teachers
Usually you can find black frames at cheaper prices than any other frames. However, with 10 teachers that still may be more than you are wanting to spend. The only other thing I can think of would be to use a 2-hole punch on the top piece of each paper (& on the bottom of the first paper - to connect the two together.) & thread a pretty ribbon through & of course on the top piece you would leave several inches in order to tie a bow that it could hang by.
The pic below is something like what I'm talking about only I did this with frames...hooking them together with ribbon. (Hopefully it makes the idea a bit clearer!) I think it'd still be cute without frames - just the paper itself dressed up with the ribbon! =) (11/14/2007)
By msym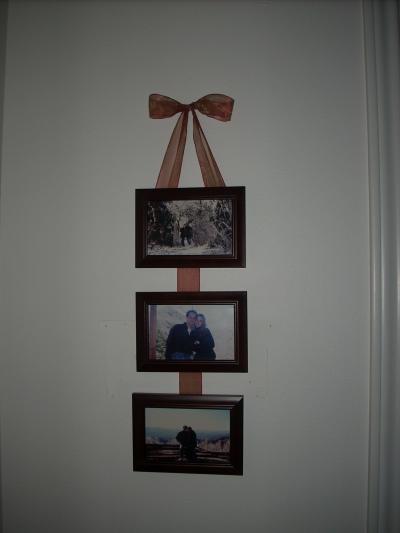 Christmas Gift for Son's Teachers
Why not give them some supplies? I hear a lot of teachers use their own money to buy much needed supplies for the school year. (11/15/2007)

By Suzanne
Christmas Gift for Son's Teachers
Leah,
Have you thought about getting the less expensive black frames from the dollar store and then putting your own hinges on them? The hinges aren't that expensive and I bet it would look just as nice as the ones you pay three times as much for already made.
God Bless,
Sheila in Titusville, FL (11/15/2007)
By GrammySheila
Christmas Gift for Son's Teachers
Check snapfish.com or shutterbug.com and see if they have anything inexpensive you can use. They have all sorts of types of frames. (11/15/2007)

By Mythi
Christmas Gift for Son's Teachers
Gift card so they can buy school supplies for their students - they spend their own money on supplies. (11/18/2007)

By Jantoo