Homemade Gift Ideas For Teachers
Solutions
Share on ThriftyFunThis guide contains the following solutions. Have something to add? Please share your solution!
Teacher's play such an important role in a child's life and what they do is priceless. With the holidays coming up, here is a sweet gift that you and your child can make together to give to the teacher. It will become a treasured memory. This would also make a great gift for adults or a special occasion.
Approximate Time:
Supplies:
empty canister from tall fireplace matches
pretty paper
paper ribbon
trims of your choice
photo of child
handprint of child
clear contact paper- optional
computer and printer- optional
double sided tape
Instructions:
A canister from fireplace matches is ideal for this project but another container, such as from Pringles potato chips would work fine also.
You can choose to use a computer and printer for the poem page or you can write the poem out and attach a photo and the handprint to the paper. If using a computer, scan in a copy of the child's handprint and insert it, along with the child's photo on the paper with the poem.
If doing it by hand, write out the poem. Cut a photo of the child and adhere to same page. Use an ink pad that is safe for kids or brush on a thin coat of non toxic paint on the hand. Have child press hand down on paper. Push gently to make a good print. Wash ink or paint off hand.
I chose to cover the poem page with clear Con-Tact paper so it will last a long time. This step is optional.
To make the canister, choose the paper you would like to decorate it with. There are many sites on the internet that offer free printable design papers. You can find school themed papers also.
Lay canister on paper and mark width and length needed. Cut paper.
Put strips of double sided tape on back of paper. Take your time and adhere paper to canister.
Do the same with coordinating paper ribbon and trim as desired.
If adding an embellishment, you can poke a hole in the canister and thread ribbon through. Tie object to the ribbon and allow to hang.
The canister in this project has a see through window on the top. You could cover with seaside paper and put in items collected from a beach or vacation. Use nostalgic papers and decorate canister for an anniversary. Write a nice note and attach a gift certificate for a nice dinner out for the special couple. The possibilities are endless!
I apologize for the picture of my finished poem. It refuses to come through clearly, but I wanted to include it anyway so you can see where I put my photo and handprint.
I wrote the poem. Please feel free to use it. Just insert your child's name and name of teacher where needed:
I am just a little tyke
There's lots of things I like
Playing in the park on swings
Riding my new shiny bike
I can kick a ball and jump a rope
Video games are neat
Disney is a real fun place
And so are ice cream treats
My favorite thing in the whole wide world
Is being with Mom and Dad
They always treat me like a king
Although I'm a little lad
But when I can't be with Mom and Dad
Only one place will do
Where I feel safe and loved
Always at Miss CC's school
She let's us do some real fun stuff
We learn and play games too
She gives us hugs and we sing some songs
She's really very cool
Merry Christmas Dear Miss CC
I want to thank you for all you do
I may be little but I have a big big heart
So I'm sending "CJ" love to you!
By Mary from Palm Coast, FL

If you are looking for some small gift for a teacher's Christmas, this may be just the thing. Your child can help make this. Be sure to supervise, though, since it involves gluing with a glue gun.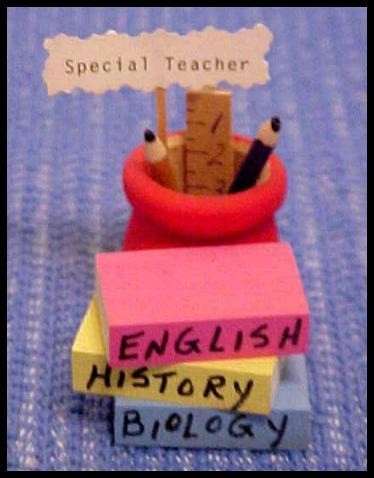 Approximate Time: about an hour
Supplies:
1 1/2 inch wooden candle cup
1 1/2 inch piece from a Popsicle stick
3 golf tees, any color
wood scraps 1 1/2 X 1 X 1/2 for books
toothpick and cardstock for sign
white acrylic paint for base coating
acrylic paints in your choice of colors
black Sharpie pen
hot glue gun
Instructions:
Sand wood scraps for the books.
If you prefer, you can buy small books in the woodcraft section at the craft store.
Base coat on all surfaces with white acrylic paint.
You can use my photo as a guide in painting the pieces or choose your own colors.
Paint one side and one edge for book cover and write titles with a Sharpie.
Stack them randomly to your liking and hot glue them together. Set aside.
Paint the candle cup and set aside.
Sharpen the end of the golf tee, and cut off the top to make the pencils.
Paint them as you like and paint the point white and add a dot of black for the lead.
Mark the piece of Popsicle stick to represent a ruler.
Make the "Special Teacher" sign on card stock and glue to a toothpick. You could put the teacher's name on the sign.
Drizzle a little hot glue in the inside bottom of the candle cup and position the sign, the ruler, and a couple pencils inside as shown.
Glue the stack of books to the side of the cup.

By Harlean from Hot Springs, AR
Many years ago, I put together welcome containers for the teachers on the first day school. I put in a tea bag, instant coffee, pack of sugar, candies and little notes of encouragement. At that time, we were able to add single dose packs of Tylenol (for those extra stressful days). Now you can't add those, of course.
Read More...
February 10, 2006
0

found this helpful
This is a great idea for making a very special gift for your child's teacher. Take a plain glass plate, pictures of her students, and a class group photo.
Read More...
December 13, 2016
0

found this helpful
This is a guide about back-to-school eraser mini signs. Using new or recycled chalkboard erasers to make this teacher gift is a project that you and your children and work on together.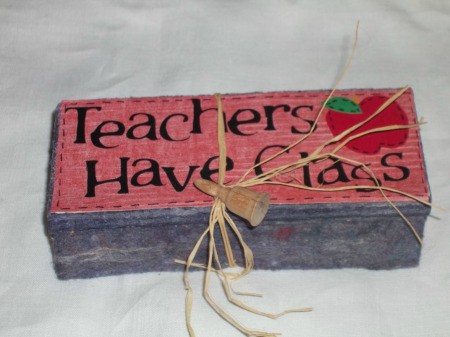 December 13, 2016
0

found this helpful
This is a guide about making a pencil box for a teacher. Painted wooden boxes decorated with pencils and crayons allows you to literally make a pencil box gift for your teacher.

December 13, 2016
0

found this helpful
This is a guide about making a red floral tin can teacher's gift. Fill a decorated recycled tin can with fresh or paper flowers as a special gift for a favorite teacher.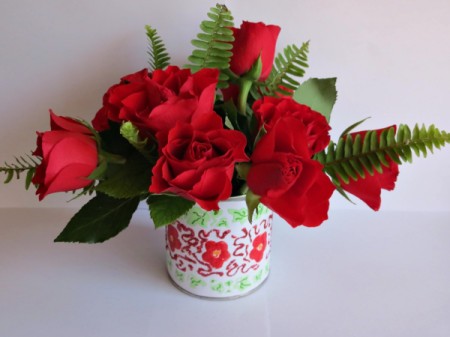 June 8, 2015
0

found this helpful
This is a guide about making a messages in a bottle gift. This easy to tailor to any event gift is the perfect way to convey your sentiments and gratitude to teachers, friends, and family.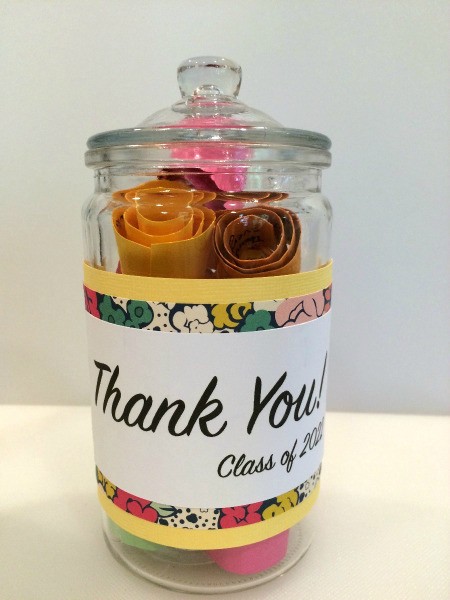 A 'cute' gift for any kindergarden teacher can be made easily by taking the plastic arm off an old doll and inserting a wooden dowel (1/2 to 3/4 inch round, to fit). You have created a unique (and adorable) pointer stick for use in the classroom.
Read More...
Questions
Ask a QuestionHere are the questions asked by community members. Read on to see the answers provided by the ThriftyFun community or ask a new question.
I need some homemade gift ideas for my son's pre-school teachers for Christmas. These have to be homemade and not store bought.

Amy from Evansdale
Answers
November 23, 2007
0

found this helpful
If your son's pre-school teacher knows how to bake, home made Christmas cookies would be a suggestion.
November 23, 2007
0

found this helpful
My girls enjoyed making cookie or cake "mixes". You get a nice jar, and layer all the dry ingridents for a cake or cookies in the jar. You can decorate the jar later if you want. Attach the recipie to finish the baked product as one side of the gift tag.
November 23, 2007
0

found this helpful
Make a simple scrapbook. Let your child decorate some construction paper. Then add a few pictures that were taken at preschool. Insert the pages you created into plastic page protectors, and then into a 3 ring binder. Have your child decorate extra pages and add those also. The teacher can then take additional pictures throughout the rest of the year to add to the book.
By Connie (Guest Post)
November 24, 2007
0

found this helpful
My daughter teaches 1st grade and we are making calendars for her student's parents for Christmas. we went to www.calendarhome.com/tyc and they have many many choices we selected a "year at a glance calendar" and added each child's picture on top and let the kids decorate the sides and bottom then my daughter laminated each one and its something the whole family can use all year when we got them all ready she said you know mom I wish someone would make one for me because I could use a good calendar that was durable . . .thought it was a quick simple idea you might like to try and the kids loved doing this project no real mess no real expense.
November 24, 2007
0

found this helpful
Using masking tape, "tear" not scissor cut into small pieces and cover a vase, pencil holder, or other numerous items and overlap each torn piece of tape. Once the item is totally covered, use brown shoe polish (canned) and rub with soft cloth over the taped item. Wipe off excess. This will have a leather look appearance and is easy and fun to do.
November 24, 2007
0

found this helpful
I don't know if this is homemade enough but here goes: get a candle in a clear glass jar with straight sides. Put a sturdy rubber band around the jar. Slip cinnamon sticks or candy canes under the rubber band. Cover the rubber band with a pretty ribbon. Add a sprig of holly or other little Christmas decoration.
November 24, 2007
0

found this helpful
i saw adorable vases painted white and sprinkled with glitter all you do is get fabric fleece and you make hats and a scarf for the snowman the kids can paint nose and eyes mouth etc!!! i made them and they were a hit!!!
November 28, 2007
0

found this helpful
I taught preschool for 8 years before having my own kiddos- anything you give will make them feel special- I had a year where I received a single gift that was the name of the student, Thank You, and the year written on a cheap glass ornament. It goes on my tree every single year:). Gifts in a jar are great and just a card and homemade treats are welcome too!!
November 28, 2007
0

found this helpful
Paste a picture on flat side of a bar of face soap
Dip the picture side in melted parafin, about 1/4 inch deep in pie tin. The parafin will protect the picture, and makes the soap last much longer, as you only take soap off one side when using it.
You could probably find some Christmas pictures on old Christmas cards if you want to stick with a Christmas theme, or use flowers or animal pictures, whatever you like.
By randa (Guest Post)
November 29, 2007
0

found this helpful
Last year I made my grandaughters pre-school teacher a wreath made from a circle hoop and glued crayons all around it. after word I added the year and a few school embelishments. Took at most an hour to make. It must have been well liked because the younger sister now has that same teacher and it is still hanging inn the classroom.
By (Guest Post)
December 5, 2007
0

found this helpful
Trace handprints on green and red construction paper. 5-8 will make a wreath when put pinky finger to thumb in a circle. Put 2 red hands wrist to wrist for a "bow"
December 13, 2009
0

found this helpful
As a teacher, the homemade gifts are priceless to me. Years later I look back & remember great times. Many of my ornaments are from my students. You can buy a box of 12 clear ornaments, get paint & stencils if you want. Paint them really pretty, add names, year. And not only is it one gift, but can make about a doz. Since that is how many are in box. I also wrap them with cheap, but pretty paper from $ tree, or use white paper & tie a ribbon on top to close around it. Believe me. All these are always loved!
Answer

this Question

...
Related Content