I've always used a hand held can opener. I can always put it away after using and cleaning. I think under the cabinet mounted openers are unsightly. I'm funny that way. (Well, that's one way). And I doubt that most mounted openers get a thorough cleaning after each use.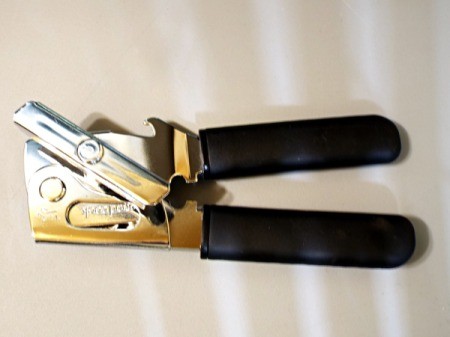 I thought long and hard before purchasing the pictured opener. I had never paid 9 dollars for one. As a matter of fact, I'd never paid half that for one. I read the guarantee on the package label. It seemed unconditional. The gears were the heaviest I had seen on a manual model. Reluctantly, I shelled out the 9 dollars and made sure I kept the receipt. (Have you ever noticed money seems to be the only thing people ever 'shell out')?
I brought the opener home, washed it, and gave it a run for its money. Man, it went through that can lid like a hot knife through butter. I thought to myself, 'I think I'm gonna like this little jewel'.
I decided to keep the packaging with the guarantee. Before putting it away, I read the care instructions for the opener. I was taken back a bit when I read to never immerse the opener in water. Strange. How are you supposed to clean the thing?
I began to think about this warning. Why was it such? I concluded that the gears were made of hardened steel, not softer stainless steel or other rust resistant alloys. Hardened steel as in an axe has almost no protection against rust.
It stands to reason, the longer the opener stayed immersed the more it would rust, though each immersion may cause an imperceptible amount of rusting. That rusting would literally eat away the gears over time.
I have always washed my opener after each use with soap and a stiff brush. I carefully dried it and put it away. My problem was, I did all this after the opener had been immersed in water, usually for some time. That's what caused the demise of the opener I was replacing. The gear teeth had over time, literally rusted away.
I love ammonia for cleaning. It cuts grease like nothing else. If you want to know how dirty you walls are, move a piece of furniture that normally hides a portion of a wall and spritz a small area with ammonia from a spray bottle. You may see some grime running down the wall.
Knowing how ammonia will loosen grease and melt it away, I keep a spray bottle of it at my sink. It cleans under hoods like you wouldn't believe. When I'm finished with my new opener I give it a spray with clear ammonia, scrub with a brush a second or two, then rinse with another spray of ammonia, enough to drip into the sink. Then I carefully pat it dry, paying attention to the gears. No immersion in water.
I have a feeling it may be a long time before I need to purchase another opener. Yes!