Spring Cleaning (Inside Your House)
Solutions
Share on ThriftyFunThis guide contains the following solutions. Have something to add? Please share your solution!
Seems most everyone is spring cleaning this time of the year. Even for someone like me who keeps up on things, this is the time to do things forgotten or put off. Most of these things we all do. Organization is the key here.
All of those cords behind the TV console and computer drive me nuts. I don't know what most are and they get tangled and very dusty. Several things help with dusting these cords, even the ones that have yellowed due to heat, sun, etc. Take a rag of some kind and dampen it. Using lemon and vinegar wipe the cords, straightening them out as you clean off the dust. I suggest after they dry to use dryer sheet (used or new) so they are easier to clean next time. After they are cleaned take your bread clip and mark what that particular cord is. For example: printer, DVD player, whatever it is; mark it. Next time you will know what cord it is.
Another thing that bothers me are dirty window screens. Most people in my neighborhood are taking them out and hosing them down. That works great however I do it a little differently and more often.
Where I live my windows are open unless it's pouring rain. I use my steamer and steam them while they are still in place. Doing this weekly or biweekly, even rotating can help keep extra dust out all year around.
Maybe you do not have windows open all 12 months, but for those of you that do, this helps with keeping your dusting to a minimum. It allows you to enjoy all of the nice weather outside. If you don't have a steamer for cleaning you can use your clothes steamer, it works just fine. If your floor steamer isn't too heavy it will do the job too.
Have none of the above? Take boiling water in a spray bottle and put it on the widest opening, then spray and wipe. Getting off all of that extra dust, dirt, and keeping grime from coming in is a blessing. Doing it more often will save you time from taking down the screens and replacing them. It will save you so much time in your weekly cleaning.
By Luana M. from San Diego, CA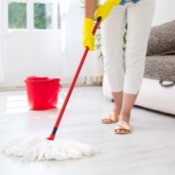 "Spring Cleaning" conjures up a mental picture of a warm, sunny day spent airing out bedrooms, washing windows, and thoroughly vacuuming carpets. It signals the passing of winter gray outside and the freshness of a spring transformation inside your heart and home.
Follow these steps and you will have that freshly cleaned look that spring cleaning implies.
Vacuum the whole house and let some fresh breezes air it out. The whole house will begin to take shape and look fresher. Dust BEFORE you vacuum to make sure a room is really clean (allow 45 minutes). I ALWAYS dust after I vacuum as well to pick up what the vacuum stirred up!
Clean your closet by putting away winter clothes and bringing out spring attire. Wash, iron, and mend clothing before it gets put away. Giveaway clothes you didn't wear and don't like (allow 90 minutes). I have a hard time giving perfectly good items away so I try to consign or give to a charity. Get rid of items you have not worn in one year OR that do not fit. I never am able to lose that 5 lbs!
Wash your bedding and change your blankets for spring weather. Put away wool blankets and bring out spring comforters (60 minutes). I also use this time to refold any items in the line closet and relegate worn towels to the rag bag. More room in the closet!
Put away winter coats, boots, and mittens, cleaning as you go through the front and back closets to your house (20 minutes). Match up those mates before storing away. Now is a great time to make a list of what items you'll need for next year
Wash the windows to clear out winter gray that blocks your view. No more winter smudges to peer through (Average 8 minutes per window). I always clean both the inside and out as well as any blinds or window treatments
Recycle newspapers, catalogs and newspapers that may have accumulated over the winter (15 minutes). I have to do this on a weekly basis!
Clean out the refrigerator and have your first cookout of the season. A social event outdoors like a cookout or picnic marks the official beginning of spring in your life. (90 social minutes)
Clean out the pantry and discard any out of date itemsor that jar of anchovy paste you are never going to use. Donate unexpired items to your local food pantry. I am even going to line with new shelf paper this spring!
Eventually:
Sweep out the garage and wash the cars. Vacuum, wax, and change the oil in your car to get ready for spring and summer trips.
Clean out the basement, donate or throw away items that are taking up space. Have a yard sale!
RELAX and enjoy the feeling of a clean house. Celebrate with a bubble bath, some aromatherapy candles and a glass of wine. Treat yourself to a nice dinner OUT!
* Bonus Tip: Clean out your garage from the center to the walls. Then place items by sections: game, craft, sports equipment, and gardening tool. Visualize garage sale income and beautiful, uncluttered space in these rooms as you proceed.
Source: My own obsessive cleaning nature and some excerpts from "10 Tips to Spring Cleaning" by Marcia Ramsland, "The Organizing Pro".
By Diana from Prospect, KY
April 14, 2005
3

found this helpful
When you know that you are going to be cleaning all day, start your day by making your dinner first. Find a great crockpot recipe and throw it together and let it cook while you clean.
Read More...
Kelly Ann Butterbaugh
0

found this helpful
Spring is here and it's time for spring cleaning. Nature does it with spring storms that clear dead branches, and her animals clear their winter bedding from their dens as the days get longer.

Read More...
My tip for your spring cleaning is basically simple. Don't do it! Think of the environment and all the chemicals you will not be placing into the environment if you don't do it!
Read More...
Wouldn't it be fun to redecorate as you "Spring clean?" Few of us can spare the money for many luxuries, so learn to make do and change things to give your home a new look.
Read More...
October 11, 2007
0

found this helpful
Toothpaste is great for scuff marks, marker on flooring, brush marks on skidoo or on the visor of helmets even when someone bumps your car and leaves some of their paint on yours.
Read More...
Kelly Ann Butterbaugh
0

found this helpful
The mood to clean up and refresh seems to be an annual idea. Perhaps it's the freshness of the outdoors, the signs of new life, or just the need to make changes after months of being cooped indoors.
Read More...
March 24, 2006
0

found this helpful
Along with Spring comes thoughts of crisp, fresh air, newly budding flowers, singing birds and a sense of renewal. Getting organized and doing a bit of spring cleaning, helps to bring that wonderful fresh feeling into your home and office.
Read More...
Kelly Ann Butterbaugh
0

found this helpful
Spring cleaning does more than spruce up the house after a long winter. It allows people to take stock of their belongings and hopefully reevaluate their spending. By forcing yourself to look at where your money is spent, you become aware of where it can be saved.
Read More...
Questions
Ask a QuestionHere are the questions asked by community members. Read on to see the answers provided by the ThriftyFun community or ask a new question.
I am looking for helpful ideas and frugal at the same time to make Spring cleaning a lot easier and simple.
Answers
By Barbie (Guest Post)
May 7, 2007
0

found this helpful
one thing I have found very helpful is to use two buckets one with your cleaner mixture in it and one with nothing but water......if you rinse your rag after wiping things down before returning to the bucket of cleaner, your cleaner will not only last longer but you will not be adding dirt from one area to another.....so each time you wipe whether it be a wall, table, bookcase ect. you will be starting with a fresh clean cloth. if you use spray cleaner then you only need the bucket of water to rinse between wipings.....
By Guest (Guest Post)
June 9, 2007
0

found this helpful
The Happy Slob has lots of fun, easy and free cleaning tips - and even more cleaning recipes that are non-toxic. http://www.happyslob.com :) Hope this helps!
P.S. Try some of her daily cleaning routine tips and you'll find that you're never stuck with as much to do when spring cleaning rolls around!
February 22, 2010
0

found this helpful
I use the cheapest off brand of a product like scrubbing bubbles to clean mini blinds. Extend them all the way before removing from the window. Lay them in the bathtub and spray them one set at a time that I stack. Let them lay there while you wipe your windows. fill the tub with enough water to cover them plus a couple of inches and give them a swish. Drain the water and refill the tub adding fabric softener. One cup maybe? Drain that and gather them to stand straight and drip dry. The softener helps prevent dust and grime from settling on them in the future. You get a pretty smell and clean tub in the deal.
January 6, 2014
0

found this helpful
I have found that for me the best way to clean windows & mirrors is water & dry with newspaper.
Answer

this Question

...
Archives
ThriftyFun is one of the longest running frugal living communities on the Internet. These are archives of older discussions.
May 4, 2007
0

found this helpful
Well, spring is, once again, upon us. With it comes sunny days, balmy breezes, blue skies and that dreaded household chore -- spring cleaning.

Not only is spring cleaning time consuming, it can also get expensive. Lately, it seems as if there is a different product for cleaning practically every item in your home. If we're to believe the advertisers, our houses will never be clean without this assortment of new, wonderful and expensive products.

Not true, says the frugal homemaker. Your house can be spic and span shiny, with just a few household products you can probably already find in your kitchen. Not only is it a more economical way to clean, it's also better for the environment, and your health.

Here are just a few frugal house cleaning tips to help you get started.

*~*All Purpose Cleaners*~*
Mix 2 teaspoons of borax and 5 cups of hot water. Add 1/2 teaspoon of dishwashing soap and 10-15 drops of your favorite essential oil. Mix well. Great for general clean-up.

Clean with vinegar on its own or diluted with water. Add essential oils to the mix to mask the strong odor of vinegar.

Sprinkle baking soda on hard to clean surfaces and dishes. Mist with water and let sit a couple of minutes. Clean as usual.

To clean your plastic cutting board, sprinkle salt on the board. Cut a lemon in half and squeeze half of the lemon onto the board. Scrub and clean. Use warm water to rinse off the lemon/salt mixture.

If your cutting board is made of wood, you can clean it this way. Once every month or so (depending on use) sand lightly. Rub a small amount of olive oil into the board. Never immerse into water.

If you need to unclog a drain, or just want to help keep them clear, place 1 cup of baking soda down the drain. Pour 1 cup of vinegar down the drain. Let sit for 15 minutes. Pour hot water or boiling water down the drain.

To make your faucets shine, put a couple of drops of olive oil on a dry rag. Spray faucet with club soda and wipe dry with the rag. It will spot less too!
*~*Floor Cleaners*~*
Mix 2 cups of vinegar with 4 cups of hot water. Add 3-5 drops of your favorite essential oil and 2 drops of tea tree oil. Tea tree oil acts as a disinfectant.

Add 2 tablespoons of dishwashing soap to a bucket of hot water. Rinse with a vinegar/water mix.

Add 1/4 cup of borax to hot water. Add 1 tablespoon of dishwashing soap and 1 cup of vinegar. Fill the rest of the bucket with warm water. Add your favorite essential oil to the mix.
*~*Window Cleaners*~*
Spray club soda on the window and wipe dry.

Mix 1 cup of vinegar with 1 cup of water. Spray the mixture on the window and wipe dry.

Mix 1 teaspoon of cornstarch with half a pail of warm water. Clean the windows and wipe dry with a lint free cloth
*~*Air Fresheners*~*
When weather permits, open your windows.

Add 3-5 drops of your favorite essential oil to a cup of baking soda. Mix the oil into the soda and place in a decorative box. Another idea is to dip a cotton ball in pure vanilla extract and place in a small dish. This tip works best in small spaces, such as drawers, closets, and bathrooms.

For Kitchen odors: Place a small dish of vinegar near the kitchen odor. The vinegar will get rid of it for you.

Place your favorite citrus peels in a pot. Cover with water and simmer. It will freshen your kitchen and the rest of the house all at once.
Ashley Ocampo is a freelance writer and mom who publishes bot the Labor of Love Recipe Box, a daily newsletter that contains quick, easy dinner ideas for your whole family, as well as Organization and Cleaning 101, a weekly ezine with tips to make your homemaking easier. To subscribe send a blank email to tlolrecipebox-subscribe@topica.com. Or for Organization 101, a blank email to org101-subscribe@topica.com
Related Content