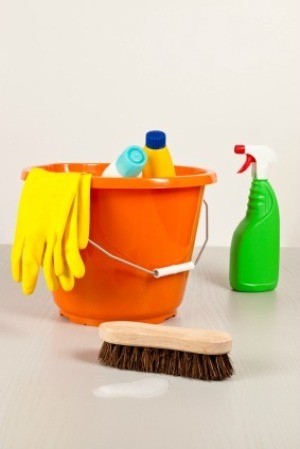 Be careful giving these as gifts as the recipient may be offended. They may think that you are hinting that they are dirty! I prefer to show up when someone is ill and clean something with the materials I bring, then leave them behind (accidentally), then tell them later to just use it, I have more. Then they are never offended.
I like the rectangular buckets best as the sponge mops with the squeeze handles fit better in them than in a round bucket. (I don't generally buy a sponge mop then leave it behind as that gets a bit too expensive for me. But I do bring mine and use it). Inside I would put a large box of baking soda, a bottle of vinegar, and an empty squirt bottle. A pair of gloves is nice, but make sure you get the right size and a packet of sponges. Include this recipe for cleaning carpets and upholstery.
Carpet and Upholstery Cleaner:
Supplies:
baking soda
vinegar
sponge mop or hand sponge
Directions:
Sprinkle lots of baking soda on any stain, letting it get down in between fibers. Put vinegar in spray bottle and spray liberally on soda. It will bubble and fizz. Using a damp (not wet) sponge mop, rub over area firmly. If it is furniture use a damp hand sponge. Let dry completely.
Vacuum away the baking soda. Stain should be gone. If some staining still remains, repeat as often as needed. Open windows as the vinegar smells, but will dissipate, leaving things clean.
Source: Friend who has all white carpet, furniture, dinning set, etc. It sparkles and this is what he does.
By JazzyMe from Los Angeles, CA