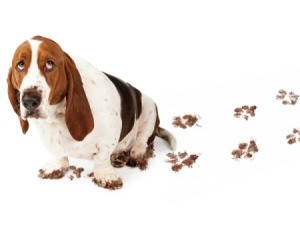 I clean for a couple that has wooden floors and 2 very large dogs that track in and out all day long. I only clean there once a week and the dirt from the dogs' paws is bad. Everything I have tried makes the floor look as if I just smeared the dirt around. I do vacuum before mopping. What can I use to make this floor shine and make this couple happy?
Thanks,
DeeAnn
in Illinois
Answers

Jo Bodey
Bronze Feedback Medal for All Time! 104 Feedbacks
February 24, 2005
0

found this helpful
Best Answer
I'd start with the simple things like check the mop - maybe request a new one if the old one is worn or very soiled. Change the mop water very frequently. Use something like ammonia or vinegar to cut through the dirt without leaving a residue. When I want to give my floors a really good clean I go over them with the large traditional cotton mop and wringer bucket with very hot water and cloudy ammonia or bleach, (not sure how the bleach would go on wood floors though?!), then, as I finish each section of about 6 square feet I finish off with a Sabco mop with the toweling pad. This gets the floors spotless and they dry in a few minutes.
By Elizabeth (Guest Post)
February 25, 2005
0

found this helpful
Best Answer
I would use a mix of 1 part vinegar to two parts water for the floor after you vaccuum/sweep. I know it isn't the most pleasant thing, but to really get my floors clean I use a rag and hand mop them on my knees.
I think it cleans much better than a mop. I also like Murphy's oil for my hard wood floor.
By Ben (Guest Post)
September 17, 2005
1

found this helpful
Best Answer
Hi,
We live in a very dusty/muddy place and use wood floor cleaner from Bellawood. You can purchase a cleaning kit online from Bellawood for $25. The cleaner is soy based and works.
Good luck
By Mike (Guest Post)
April 5, 2008
0

found this helpful
Best Answer
We've tried most of the other products listed and also a Swiffer. The only product we found to work is made by Zep Commercial, it's called Hardwood & Laminate cleaner. Spray it on and wipe with a cloth or paper towel and what's left dries quickly. The only ingredient mentioned was glycol ethers. I got it at Home Depot and their site, www.zepcommercial.com, lists other stores.
Good Luck.
By Jeannie (Guest Post)
July 1, 2008
0

found this helpful
Best Answer
You really need to try Earth Friendly Product Floor Kleener for hardwood floors. If you're cleaning for a family with pets you run the risk of putting toxins on the floors which the dogs will absorbe into their pads. This is a completely eco-friendly product that has a citrus smell and really works
Answer

this Question

I have a 15 yr old hardwood floor that was looking very dull. I cleaned and then used Quick Shine. It dried it over night and the next evening I let my dog in (with clean/dry feet) and now it shows paw prints everywhere.
I tried the Quick Cleaner and it just dulled the floor and the prints still show. I've tried soapy water with no luck either. Any suggestions?
Answers

Ana
Bronze Post Medal for All Time! 140 Posts
April 17, 2020
0

found this helpful
There is a product brand called" Bona" - this product is made for all floor types, and its great! Here a little info on this great product. -https://us.bona.com

April 18, 2020
1

found this helpful
Sometimes products like Quick Shine have to be used exactly as instructed on container and even a small evasion can change the way it was intended to look.
Not that you did anything incorrectly - just making the comment.
I believe you should present your comments/questions to the company as this does not seem like it is reacting properly.
This is what they recommend:
"Quick Shine Deep Cleaner was specifically developed to remove Quick Shine Floor Finish and imperfections such as trapped pet hair, dust, scuffing and ground-in dirt without harming hardwood floors or their polyurethane seal or any other type of floor surface."

April 20, 2020
1

found this helpful
Because dogs sweat through the pads on their feet what you are probably getting are marks from the oils on your dog's feet. My dog sometimes leaves the same kinds of marks on my floors. A mild detergent like Dawn should help remove those marks.

poehere
Bronze Post Medal for All Time! 105 Posts
April 20, 2020
0

found this helpful
It is the oil in the product that you use and the only way to get this right is to get a product that does not have oil in it. That way when they walk on the floor the foot prints don't show.
I have same issue with wood and tile in my home and normally just need to clean with vinegar and water to stop the paw prints from showing on my floors.
Answer

this Question