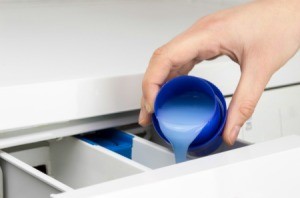 How can I clean the liquid fabric softener scummy "deposit" off my washing machine agitator?
By Vicki Lockmiller from Monroe, MI

Answers

September 2, 2009
0

found this helpful
Best Answer
Try vinegar. Fill the washer with hot water, add 2 cups vinegar and let it soak an hour or more. Run it through a full wash without loading it. This is how you remove soap scum from your washer. This is something you should do as soon as you see any build up and remove it then.
Answer

this Question

My fabric dispenser sits on top of my agitator. The inside of the agitator is full of an astounding amount of black gunk from the fabric softener dispenser. I have removed the agitator for cleaning, but I can't get the gunk off the inside where I can't reach. Any good ideas? Thanks.
Answers

Judy
Gold Post Medal for All Time! 677 Posts
December 27, 2016
0

found this helpful
Run the machine with no clothing using one gallon of vinegar. This cleans out the machine.

Jackie H.
Silver Post Medal for All Time! 355 Posts
December 27, 2016
0

found this helpful
My old washer had the fabric softener on top of the agitator and I had the same problem. I started getting it the habit after giving it a real good cleaning out. I would use a washcloth with hot water before each use and wipe it all down and throw the facecloth right in that wash.
After making a habit of it, it just became easy and the junk wouldn't have time to turn black or smelly! It is just a few second step before washing the clothes. I hope this helps!

December 27, 2016
0

found this helpful
does it come off? My old top loader used to and it could be taken apart to clean. Vinegar helps cut the gunk. I no longer use fabric softener for this reason. Instead, I use vinegar in place of fabric softener?

December 28, 2016
0

found this helpful
1. It seems most service repair people recommend (with agitator in place) using a cup or 2 of bleach with washer set on full load and hottest water setting.
2. Wait 30 minutes or so and then run through full cycle.
3. After this has finished run a full load with clear hot water to be sure all bleach has been removed.
4. Repeat above process only using vinegar instead of bleach.
Remember - bleach and vinegar cannot be mixed.
Also, be careful with a stainless steel drum as bleach can damage this if it sets very long (I think - more than 30 minutes).
I have had to clean my machine (after removing agitator) with a baby bottle brush and vinegar/water.
Then I decided not to use anything but liquid detergent and vinegar in my machine - no problems since then.
Good luck - don't you just love nice smelling clean clothes!!

December 28, 2016
0

found this helpful
I cleaned mine in a bucket of water and vinegar with a baby bottle brush. Then I just wash it twice a month in the kitchen sink to keep it clean.
Helen
Bronze Answer Medal for All Time! 155 Answers
December 29, 2016
0

found this helpful
A simple way to clean this would be to fill the dispenser with an enzyme detergent and do an ordinary wash. When the cycle has finished, open the machine and add vinegar to the dispenser, then run an extra rinse, to help clear both the dispenser and your wash of the detergent.

December 31, 2016
0

found this helpful
Use vinegar and a brush. You may want to avoid using fabric softeners as they contain harmful chemicals. Try using vinegar in the dispenser instead. It will soften as well.

July 22, 2018
0

found this helpful
I disagree with the above message about bleach and hot water. Bleach should always be used with very cool water. If hot is used, the bleach gases off which is very bad for our lungs, plus the bleach loses its power and cant do the job it was meant to do.
It also says this on the bottle of most brands of bleach. I am going to try eucalyptus oil in my machine...a great grease cutter and perfume with hot water.
Answer

this Question