We have just moved into our new home. The previous owners installed laminate hardwood flooring throughout the house. It is beautiful, but I am having difficulty with a white film and streaking. I use BONA, but I don't think this is working. Any ideas on what is best to clean these floors. Mind you, I have a huge house and most are hardwood floors.
By Johnna from Knoxville, TN
Answers:
Cleaning Laminate Wood Floors
The best product I've found is "Orange Glo Hardwood Cleaner and Polish". You want to vacuum your floors first and use a mop with a microfiber cleaning pad, make sure that you wet the pad.

Okay here's the trick: Pour 1/2 of the Orange Glo into another container and keep for future use, then add warm water to the remaining 1/2 in the original bottle almost filling it. Shake and squirt on your floors and mop. Does a great job. (08/10/2009)

By mejb47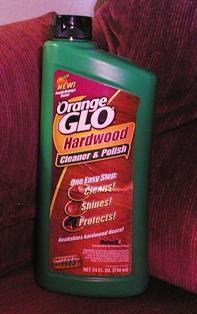 Cleaning Laminate Wood Floors
We had laminate floors installed in all rooms except bathroom in our new home and moved in a little over 2 years ago. The only thing I use is vinegar and water and have been happy with that. My 10 year old grandchild spent the summer with me and had a habit of going barefoot inside, leaving footprints from natural oils in the skin. The vinegar solution does a great job of removing that too. The owner of a local flooring place recommended this to us. I wouldn't use any of the products on the market for my floors. (08/12/2009)

By karenIM
Cleaning Laminate Wood Floors
My cousin uses Swiffer (or dollar store brand) for hardwood floors. She swears by it and there's no liquid to seep into the joints. (08/12/2009)

By Shosha