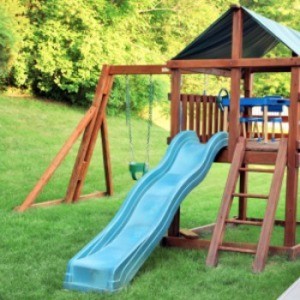 If you have children, one of the most essential (and often overlooked) spring yard chores is probably sitting right in your own back yard: cleaning and inspecting your children's outdoor play equipment. Here are some quick tips for getting sandboxes, swing sets, kiddie pools and activity gyms clean and safe in time for summer.
Supervise Kids at Play
The best way to ensure your kids safety while at play is to make sure that there is always an adult around to supervise play. Make sure that children understand basic playtime etiquette before activities begin. Dangerous horseplay like pushing, jumping from heights, and throwing sticks or rocks at others is not acceptable behavior. Unless they are in a pool, kids should always wear appropriate (non skid) footwear when playing on outdoor equipment.
Activity Gyms
Keep up on routine repairs and maintenance. Inspect for loose or corroded fittings, swing seats, chains, and cables, and tighten or replace them as necessary. Cover protruding bolts, and pinch shut "s" hooks. Check wood for insect damage and sand splinter hazards smooth. Check plastics for cracks, broken glass or other debris hidden in surfacing areas.
Cushion falls. According to a 2001 study by the U.S. Consumer Products Safety Commission, of the roughly 50,000 injuries associated each year with home playground equipment, 69% of injuries were the result of falls. Yet despite this fact, only about 9% of home playgrounds have protective surfaces installed below equipment. Examples of appropriate surfacing materials include pea gravel, sand, shredded/recycled rubber mulch, wood mulch, and wood chips.
The type and depth of the protective surface covering depends on the "critical" height of your playground equipment (the maximum fall height from which a life-threatening head injury would occur). Check with the equipment's manufacturer for specific recommendations. If you already have a protective surface installed under your playground equipment, fluff it up with a rake, and if necessary add additional material to the appropriate depth.
Remove hanging ropes. Any rope-like objects that have been attached to outdoor equipment (jump ropes, clotheslines, dog leashes, or other choking hazards) should be removed to prevent potential entanglement.
Keeping Surfaces Clean
To help prevent germs from spreading among children at play, surfaces that are exposed to little hands should be cleaned regularly with a non-toxic cleaning solution:
All-purpose cleaner:
1 tablespoon of earth-friendly dish soap
1 gallon of warm water
Mix and spray on equipment using a hand-sprayer. Use a sponge or towel to wash away dirt. Rinse with water from the garden hose.
Mild disinfectant:
2 cups of water
1 cup of distilled white vinegar (or fresh lemon juice)
Deodorizer:
2 cups of warm water
2 cups of baking soda
Mix and shake until baking soda dissolves and spray onto equipment with a hand-held sprayer. Rinse with hose to remove residue.
Kiddie Pools
Wading pools can be especially hard to keep clean because kids are constantly getting in and out-dragging dirt and grass along with their feet. To keep draining and refilling to a minimum, start the summer with a clean pool, then place a bucket of water nearby so that kids can rinse their feet before stepping into the pool. Use a hand-held skimmer or fine strainer to filter floating debris, and make sure everyone gets out for regular bathroom breaks. Don't forget to inspect inflatable toys for air leaks.
Cleaning Sandboxes
Under the right moisture conditions, sandboxes can be incubators for mold and mildew. To help keep sand clean and dry, cover sandboxes securely when not in use. Not only will this keep out rain, but also neighborhood cats. If moisture starts to build up, turn the sand with a shovel so moist layers are exposed to sun. Use a simple strainer to sift out debris like rocks, dead twigs, and leaves. Replace or add new sand as necessary.
Comments
Read More

Comments