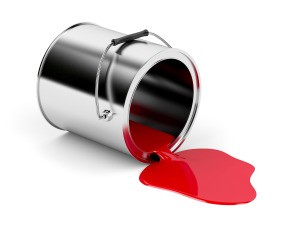 Pease if anyone has any ideas on how to get paint out of carpet I'm open to any and all suggestions. I had some paint cans in the back cargo area of my Jeep and blue paint spilled all over. My mom's dog stepped in it and got blue paw prints all over the back of my seats which are leather. This is my first brand new car(3mo. old) and its already ruined!
Melissa (age 29) from Atlanta
Answers
By Jim (Guest Post)
March 28, 2005
1

found this helpful
Best Answer
You can look at the can of paint and see what solvent is required for cleaning brushes for that type of paint. Different kinds of paint will use different types of solvents (Mineral Spirits, Turpentine, etc.). Then dab the solvent on the paint stains on the carpet. It may take a while but the solvent should remove the paint. As far as the leather seats, be sure to pretest any cleaning solution you try. A cleaning solution that would work fine on the carpet may disclor or damage the leather. Try to find an out of site, piece of leather to pretest on.
Considering the newness of the car, you may want to call both the paint company and your car dealer to see if they have any advice.

March 28, 2005
0

found this helpful
Best Answer
I used de-natured alchohol on my carpet after my then 2 year old son decided to paint my almost white carpet with the hunter green paint my husband was using to paint the walls and it came clean! I learned this trick from a pofessional painter. You can find de-natured alcohol in the paint section.
By Laurie (Guest Post)
July 21, 2007
1

found this helpful
Best Answer
I saw one comment on here that said that Windex works to get paint out! I tried it and it got both dried and wet paint out immediately. I even used just an off brand, not actually the Windex brand. Nothing else worked! I mean, it was quick, just a few rubs and it was out.

August 24, 2008
0

found this helpful
Best Answer
Somewhat related, if you spill latex paint on a carpet, pour twice the amount of water over the paint and suck it up with a wet and dry shop vac, this also works with other liquids, orange soda, wine etc
By Gina (Guest Post)
January 13, 2009
0

found this helpful
Best Answer
I restore the interiors of cars and your best bet is to get lacure thinner for the seats and use it on the carpet. Scrub with a brush on the carpets and with a towel on the seats.

July 10, 2010
0

found this helpful
Best Answer
All you need is a shot of vodka per cup of boiling water. Pour it directly on the spot, slap it with a metal wire brush and shop vac all the moisture.
I am serious this will work.
Answer

this Question

For the last 3 days, I have had someone come with me in my car and he accidentally spilled his paint in my car trunk. I did change the carpet and everything and wash my car, but the smell is still there.
How can I remove the paint or lessen the smell inside my car? Please help me.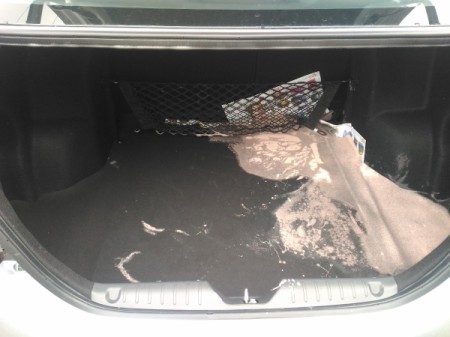 Answers

attosa
Diamond Post Medal for All Time! 1,246 Posts
February 14, 2018
0

found this helpful
Best Answer
Wow, that's a shame :( I'd take it to a car wash place and ask them to neutralize it. They have the proper equipment.
Otherwise, I'd get a deep cleaning machine and keep the car open for days.

Judy
Gold Post Medal for All Time! 677 Posts
February 14, 2018
0

found this helpful
Best Answer
There is a product called Nok-Out that neutralizes odors. You can buy it on Amazon
Answer

this Question