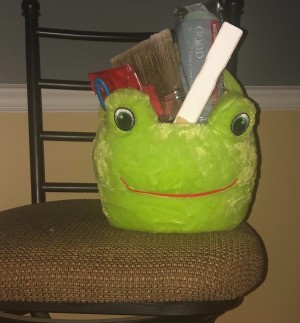 Not only will this keep all materials used to clean any area together, but it's easy to spot what needs replacing at quick glance; fluid levels, bristles on brushes, number of clean rags yet unused, plus extra bags for wastebaskets. Sneak a look at that Magic eraser. Dilapidated enough yet to replace?
The caddy quickly reveals the essential products used most often and the state of total wear on accompanying tools over time. Not a named item marketed by or purchased specifically labeled, any solid basket or small plastic tote will do. Clear caddies can virtually, with ease, inform loyal brand users or show routine followers where they're low, lacking, or finally, lucky that they are so smart after all.
I keep usually clean rags, bagged ones tell me rags are dirty and need removed, washed and dried, a glass cleaner, wood polish, toothbrush, etc. you get the idea. Kept in view or out of sight it can be subtle way of reminding guests to use care and perpetuate tidy surroundings, or how much the space and tidiness means, to you, to be kept so. Encouraging touch ups or scent boosts if the caddy boasts a favorite room fragrance, it's a small carryall making all that I need in any given area easy to use, move, and stow or show in closets, laundry room shelves or under kitchen and bathroom sinks.
Easy enough so that any guest will feel at home with grabbing and using on the go in case of mishap or personal preference. We don't always need to know if tiny messes accidentally happen and can, without much fuss be fixed..forgotten. Guests may not wish to share details of all happening behind a closed door granted them for use within your home, and they won't have to alert you that they clean every toilet seat before sitting down- not just yours. Wipes in the bathroom caddy are easily spotted and there's no embarrassment for anybody- either way.
Right now for my clean wall and paint touch up chem caddy I'm using an adorable old fuzzy frog Easter basket outgrown long ago, but in good shape, discarded by my youngest son, who is now 16. It serves as my wall paint retouch center and print cleaning touch up chem caddy and is a bright note greeting anyone reaching for it or having to get under the kitchen sink cabinet in general. A literal, practical, functioning tiny smile manufacturer! Plus, a tiny fingerprint removal and retouch wall paint travel center. Enjoy!