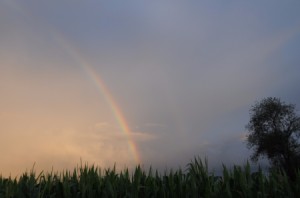 When I was five, we would travel from Hamilton to Roebuck to see my dad's parents. We loved it there, even though there was no running water or any thing fancy. There was a built in toilet, like an outside outhouse. I remember my aunt carrying the pail to dump, she hated it. She would have to feed the pigs and other animals. We would follow her around.
She spent most of her time cursing most everything she had to do. Can't say I blamed her. She had to pump several buckets of water, and carry them to the house for dishes, bathing, and cleaning. Eventually, my grandfather put in running water and put a real toilet in. My grandmother could finally do the laundry, and other stuff she needed to do. The bathroom never got finished.
It had a cement floor with all the insulation still not covered. My grandfather was slow at finishing things.
They gardened every summer to sell at the market. My grandmother canned everything she could, and they raised their own meat. My grandma did a lot of baking. I don't think all this frugality was because of lack of money, more out of habit. They never had new furniture and had the same stuff every time we would visit. My grandmother never wasted anything, she could teach this generation a few things, because we waste so much. She would work 8 hours at the factory and then come home. Her way to relax was to weed the garden for a couple of hours.
I spent one whole summer with them once. It was the best summer I ever had. The day started early and ended in late afternoon, but it taught me all kinds of things. Once when they had slaughtered a pig, my dad came out of the barn holding the pig's head, and he told me to give it to grandma. I was shocked, "You want me to touch it?" Anyway, I gave it to her in a garbage bag, wondering what she would want with a pig's head. They wasted nothing.
My grandfather spent hours in the garage fixing his old tractor when he could have bought another one, but some how it finished the job every season. They had a wood furnace and lots of land for cutting wood. That was hard work, we helped when we came down. We always had fun and had lots to do. You could count on everything being the same every time we visited.
They had seven kids, my dad being the oldest. My grandfather died a few years ago, but my grandma is 85 and she looks about 68. All that hard work paid off.