When those darling little birds peck gaping wounds in your tomatoes, consider adding wind chimes to your garden décor. A creative and fun alternative to store bought chimes is a homemade creation that will become a conversation piece. Using old silverware and some string, you can make a set of loud wind chimes that are whimsical and practical. And what better location for silverware wind chimes than in the garden, where your food originates?
What you'll need:
4-5 spoons
1 fork
Yarn, twine, or embroidery thread
Beads for embellishment
Scissors
Needle nose pliers
Wind!
What you'll need:

With needle nose pliers, bend every other tine of the fork at a right angle to the handle (see photo), and then curl the ends of the tines into circles, or eyes. Bend the handle of the fork into a hook. Cut four or five 10" lengths of string, twine, or yarn. The number of lengths you need is determined by the number of tines on the fork. Add beads to the string as an embellishment at this time. Tie one end of each string onto the handle of a spoon, then thread the other end through the eye on a tine of the fork. Repeat this for the remaining spoons. All of the spoons need to hang at the same distance from the tines so that they will strike one another to make a sound.
Hang your silverware wind chimes in the garden, outside a kitchen window, or near a picnic area. These make fun gifts for children to create. Many second hand stores have a selection of used silverware, and discount stores sell inexpensive bundles of silverware.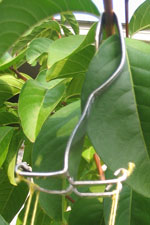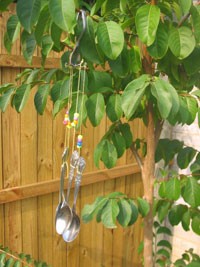 © 2005 ThriftyFun

Answers:
Silverware Wind Chimes
I love this idea! I will have to make one.. (09/16/2004)

By Carol Smith
Silverware Wind Chimes
I've done this before. Go to your local Goodwill Store or Thrift shop, for very inexpensive silverware. (09/16/2004)

Silverware Wind Chimes
Anyone have any tips for drilling the holes? What's the best type of bit or drill to use so that the saucer doesn't break? These look like a lot of fun. (09/16/2004)

By SS
Silverware Wind Chimes
Try a diamond drill bit. These sound cute... how difficult is it to bend the tines of the fork? I've seen picture easels made out of them, but can't figure how to make them "curl". (09/18/2004)
By DL1052MCD
Silverware Wind Chimes
I warm my forks in the oven (it makes them more pliable). Then I use needle nose pliers to curl the prongs.
(02/17/2005)

By Lighten Up
Silverware Wind Chimes
Want an unusual outdoor piece of artwork? Like wind chimes? My mother taught me this one - First you find mismatched silver flatware about 5 pieces. Anything that suits your fancy. Then if you have forks you bend the tines into curls, the spoons and knives you make waves into. Then you find a cup saucer that speaks to your artistic nature and drill five holes around the rim and one in the center. Drill holes into the handles of the flatware. You can use string, twine, ribbon, fishing line, whatever moves you to hang the flatware in five varying lengths on the saucer. Then string the saucer up somewhere where you'll be able to hear its chimes and you're done! (06/30/2005)
By Suzanne S.
Silverware Wind Chimes
I love it. I have lots of windchimes....I love the sound of them.....think maybe it drives my neighbors mad though :0) . Thanx for sharing this great idea. Going to have to make some for the hubby's veggie garden to protect his produce. (06/30/2005)

By Ruth Kennedy