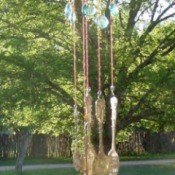 You can use old silver spoons from yard sales and thrift shops to make a windchimes with a beautiful sound.
Approximate Time: 2-3 hours
Supplies:
5 silver (not stainless) spoons
1 wire whisk (Dollar Tree)
18 gauge (or whatever you have around) wire
String, cotton yarn or twine
Hammer
Wire cutter
Needlenose pliers
Large beads or decorative stone (optional)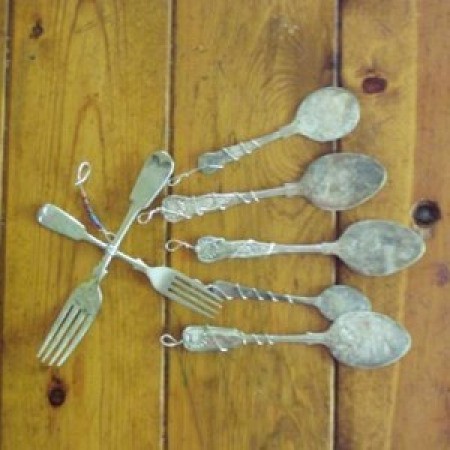 Instructions:
Flatten the spoons by hammering them against something sturdy like a stone walkway or concrete drive.
Cut the loops of the whisk and use the pliers to curve the outwards and up, with a little loop on the end.
Cut 5 pieces of wire into about 9" to 12" long.
For each spoon, wrap wire tightly around the bottom of the handle and twist to secure.
Wrap the wire loosely around the handle and finish with a loop at the top.
Cut the string into two 8" lengths and 3 9 1/2" lengths.
Attach the string to the whisk "arms", leaving an empty arm in between spoons.
You can add beads or decorative stones wrapped in wire on the empty arms.
Another way: Cut jut 2 loops on the whisk to hold the spoons, with the fifth spoon tied into the center.
I saw this project years ago in a magazine in a crowded doctor's office and didn't feel comfortable ripping the page out. (Might have been different had I been the only one in the waiting room.) I kept an image of those chimes in mind, although who knows how much that image and the magazine picture have in common by now? I got the idea for using the whisk from Mark Montano, a designer on TLC's "While You Were Out."
By the way, the spoons make a lovely bell-like sound when they hit each other.
By Pugi from Ingram, TX
Read More

Comments