Silverware Wind Chimes
Solutions
Share on ThriftyFunThis page contains the following solutions. Have something to add? Please share your solution!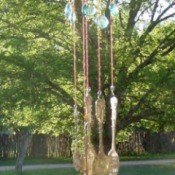 You can use old silver spoons from yard sales and thrift shops to make a windchimes with a beautiful sound.
Approximate Time: 2-3 hours
Supplies:
5 silver (not stainless) spoons
1 wire whisk (Dollar Tree)
18 gauge (or whatever you have around) wire
String, cotton yarn or twine
Hammer
Wire cutter
Needlenose pliers
Large beads or decorative stone (optional)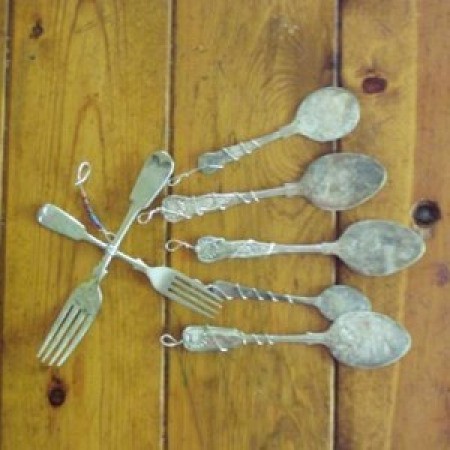 Instructions:
Flatten the spoons by hammering them against something sturdy like a stone walkway or concrete drive.
Cut the loops of the whisk and use the pliers to curve the outwards and up, with a little loop on the end.
Cut 5 pieces of wire into about 9" to 12" long.
For each spoon, wrap wire tightly around the bottom of the handle and twist to secure.
Wrap the wire loosely around the handle and finish with a loop at the top.
Cut the string into two 8" lengths and 3 9 1/2" lengths.
Attach the string to the whisk "arms", leaving an empty arm in between spoons.
You can add beads or decorative stones wrapped in wire on the empty arms.
Another way: Cut jut 2 loops on the whisk to hold the spoons, with the fifth spoon tied into the center.
I saw this project years ago in a magazine in a crowded doctor's office and didn't feel comfortable ripping the page out. (Might have been different had I been the only one in the waiting room.) I kept an image of those chimes in mind, although who knows how much that image and the magazine picture have in common by now? I got the idea for using the whisk from Mark Montano, a designer on TLC's "While You Were Out."
By the way, the spoons make a lovely bell-like sound when they hit each other.
By Pugi from Ingram, TX
Read More Comments
I have seen so many cool wind chimes on Pinterest and here lately that I had to start making my own. This is the first of many.
Total Time: About 5 hours
Yield: 1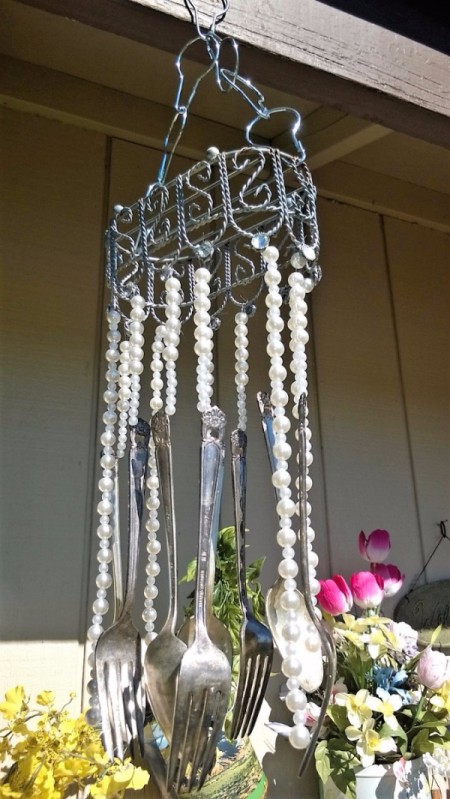 Supplies:
1 candle holder or some object that would work upside down ($.79)
1 lb finishing line, 10 lb. ($6.99 for 700 yards)
8 silverware with or w/o holes ($.59 each)
8 oz faux pearls or beads ($2.50)
1 wire snipper/pliers ($2.75)
1 oz rhinestones ($3.95)
6 clothes pins ($.10)
E-6000 glue
scissors
older style shower curtain rings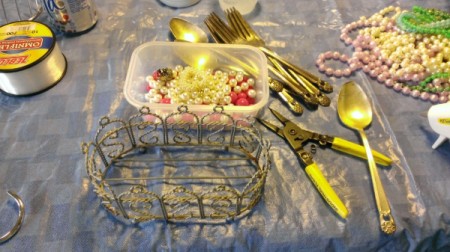 Steps:
When I find things at thrift stores now that I know can hang either upside down or right side up, I grab them. In this case I believe this was a candle holder.
First I determined how many utensils I would need. I was short 4, but I didn't let that stop me. Finding real silverware with holes at the end design was a real coup.
As you can see I shopped for bear when it came to having what I needed. Then, I just started in with the basics - the fishing wire. I got 10 lb test line from Zebco and it works really well. I might get a larger/stronger gauge next time but for my first time out, it worked great.
I started out stringing the faux pearls I needed to, then looping the wire over and under twice in the silverware hole, then going back up through the pearls. That took about 2 of them before I realized I could loop through the silverware and then string the pearls on with two strands of line at once. That saved me tons of time.
Once I set the silverware where I wanted them, leaving 4 holes to string just the pearls, I make sure all the silverware was secure. Then, I went to work on the pearl strands alone, mixing the little and the big ones to "sort of" match the ones on the silverware.
I had some very cool shower curtains that had rhinestones spot welded on them. I pried them off to cover the fishing line knots. I had to E-6000 glue them overnight, but it was worth it. They look like they were suppose to be there so that is pretty cool. I used clothes pins to keep them in place.
Once they were done, I hung it on my balcony. I love the sounds that silverware makes so I am going to enjoy them now that I have put in so much work. The next one should be done and on tomorrow!
Read More Comments
Use old silver silverware for the best "sounds", and usually they are more ornamental than what you find in a dollar store or such.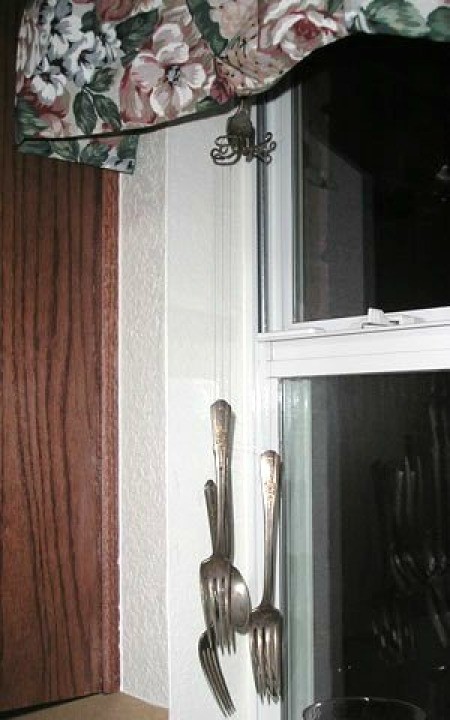 Read More...
Questions
Ask a QuestionHere are the questions asked by community members. Read on to see the answers provided by the ThriftyFun community or ask a new question.
How do I make wind chimes using silver flatware?

Marilyn from Colfax, LA
Answers
By tpm (Guest Post)
March 3, 2008
0

found this helpful
I'm making a wind chime for a project. Thanks a lot.
By Gia K (Guest Post)
May 18, 2008
0

found this helpful
I am having trouble with bending the fork tines. What is the easiest way to do that? Do I need special tools?
THANK YOU!
Answer

this Question

...
Archives
ThriftyFun is one of the longest running frugal living communities on the Internet. These are archives of older discussions.
When those darling little birds peck gaping wounds in your tomatoes, consider adding wind chimes to your garden décor. A creative and fun alternative to store bought chimes is a homemade creation that will become a conversation piece. Using old silverware and some string, you can make a set of loud wind chimes that are whimsical and practical. And what better location for silverware wind chimes than in the garden, where your food originates?

What you'll need:
4-5 spoons
1 fork
Yarn, twine, or embroidery thread
Beads for embellishment
Scissors
Needle nose pliers
Wind!
What you'll need:

With needle nose pliers, bend every other tine of the fork at a right angle to the handle (see photo), and then curl the ends of the tines into circles, or eyes. Bend the handle of the fork into a hook. Cut four or five 10" lengths of string, twine, or yarn. The number of lengths you need is determined by the number of tines on the fork. Add beads to the string as an embellishment at this time. Tie one end of each string onto the handle of a spoon, then thread the other end through the eye on a tine of the fork. Repeat this for the remaining spoons. All of the spoons need to hang at the same distance from the tines so that they will strike one another to make a sound.

Hang your silverware wind chimes in the garden, outside a kitchen window, or near a picnic area. These make fun gifts for children to create. Many second hand stores have a selection of used silverware, and discount stores sell inexpensive bundles of silverware.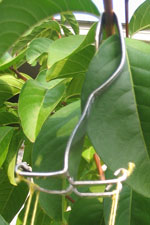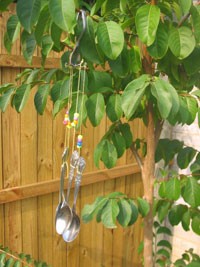 © 2005 ThriftyFun

Answers:
Silverware Wind Chimes
I love this idea! I will have to make one.. (09/16/2004)

By Carol Smith
Silverware Wind Chimes
I've done this before. Go to your local Goodwill Store or Thrift shop, for very inexpensive silverware. (09/16/2004)

Silverware Wind Chimes
Anyone have any tips for drilling the holes? What's the best type of bit or drill to use so that the saucer doesn't break? These look like a lot of fun. (09/16/2004)

By SS
Silverware Wind Chimes
Try a diamond drill bit. These sound cute... how difficult is it to bend the tines of the fork? I've seen picture easels made out of them, but can't figure how to make them "curl". (09/18/2004)

By DL1052MCD
Silverware Wind Chimes
I warm my forks in the oven (it makes them more pliable). Then I use needle nose pliers to curl the prongs.
(02/17/2005)

By Lighten Up
Silverware Wind Chimes
Want an unusual outdoor piece of artwork? Like wind chimes? My mother taught me this one - First you find mismatched silver flatware about 5 pieces. Anything that suits your fancy. Then if you have forks you bend the tines into curls, the spoons and knives you make waves into. Then you find a cup saucer that speaks to your artistic nature and drill five holes around the rim and one in the center. Drill holes into the handles of the flatware. You can use string, twine, ribbon, fishing line, whatever moves you to hang the flatware in five varying lengths on the saucer. Then string the saucer up somewhere where you'll be able to hear its chimes and you're done! (06/30/2005)

By Suzanne S.
Silverware Wind Chimes
I love it. I have lots of windchimes....I love the sound of them.....think maybe it drives my neighbors mad though :0) . Thanx for sharing this great idea. Going to have to make some for the hubby's veggie garden to protect his produce. (06/30/2005)

By Ruth Kennedy
Materials:
Use old silver silverware for the best "sounds", and usually they are more ornamental than what you find in a dollar store or such.

1 fork
1 spoon
4 other forks or knives
Fishing line
Drill and small drill bit
Pliers
Directions:
Drill small holes in the handles of each utensil.

Using the pliers, bend the tines of one fork out in each direction (think west, north, south, east), and then curl the ends upwards. Tie a length of fishing line to the spoon. The spoon will hang in the middle, so tie it to one of the middle tines of the fork, as close to the center of it as you can get. Next, tie a length of fishing line to each of the other utensils and hang them from each curl of the fork.
The sound of the chime is beautiful. If using the knives, the sound will be lower. Other forks make a tinkling sound. You can let the spoon hang naturally, or bend the ladle part up so as to hit the other utensils more frequently.
By Dawn Salisbury from Ogallala, NE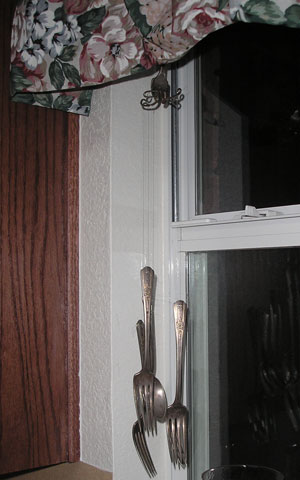 Answers:
Silverware Wind Chimes
I have seen silverware windchimes with old food graters at the top of the chimes and the silverware hangs from the grater or use an old beater with the handle at the top and hang the silverware from the beaters. Use any small old kitchen item to hang the silver ware from the bottom of that kitchen item. A small silver teapot from a chinese restaurant could be used by drilling holes in the bottom and the silverware hung from the bottom of the teapot.
There are numerous ideas to use to make windchimes out of silverware. I make place card holders out of old silverware; cut off the handle half way down, bend tines up to hold the card, tines down to stand the piece up; it is a pretty, unique to display place cards for your holiday table or a sentimental greeting card. (07/20/2007)

By JOSE
Advertisement
Published by ThriftyFun.
© 1997-2020 by Cumuli, Inc. All Rights Reserved.
https://www.thriftyfun.com/tf94271539.tip.html