Materials:
Use old silver silverware for the best "sounds", and usually they are more ornamental than what you find in a dollar store or such.
1 fork
1 spoon
4 other forks or knives
Fishing line
Drill and small drill bit
Pliers
Directions:
Drill small holes in the handles of each utensil.
Using the pliers, bend the tines of one fork out in each direction (think west, north, south, east), and then curl the ends upwards. Tie a length of fishing line to the spoon. The spoon will hang in the middle, so tie it to one of the middle tines of the fork, as close to the center of it as you can get. Next, tie a length of fishing line to each of the other utensils and hang them from each curl of the fork.
The sound of the chime is beautiful. If using the knives, the sound will be lower. Other forks make a tinkling sound. You can let the spoon hang naturally, or bend the ladle part up so as to hit the other utensils more frequently.
By Dawn Salisbury from Ogallala, NE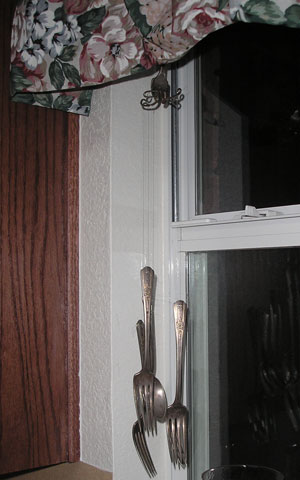 Answers:
Silverware Wind Chimes
I have seen silverware windchimes with old food graters at the top of the chimes and the silverware hangs from the grater or use an old beater with the handle at the top and hang the silverware from the beaters. Use any small old kitchen item to hang the silver ware from the bottom of that kitchen item. A small silver teapot from a chinese restaurant could be used by drilling holes in the bottom and the silverware hung from the bottom of the teapot.
There are numerous ideas to use to make windchimes out of silverware. I make place card holders out of old silverware; cut off the handle half way down, bend tines up to hold the card, tines down to stand the piece up; it is a pretty, unique to display place cards for your holiday table or a sentimental greeting card. (07/20/2007)

By WandaJo