I am looking for uses for men's ties.

By Janet from Indianapolis, IN
Answers:
Crafts Using Neck Ties
Wow! I was about to post this neat craft I found before I saw your question. (I was searching for a craft question about Valentine's boxes that I saw a few days ago). Anyway, here's a really pretty bag you can make, called a Neck Tie School Bag (it looks like a clutch purse) at Craftbits.com (I'm a member there, and it's great! There is a growing supply of crafts there!)
God bless you and Happy Valentine's Day! (02/08/2010)

By Erin813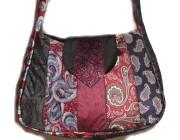 Crafts Using Neck Ties
I've done dyeing the Easter eggs using silk ties. Wrap the egg(s) in silk tie using rubber bands. Boil eggs for hard boiled eggs. The pattern on the tie will be on the egg. And I found that each tie will make 10 eggs. Also, you could make a skirt or a quilt out of ties. (02/14/2010)

Crafts Using Neck Ties
I used to have a book called Daddy's Ties that had a ton of ideas and instructions. Hope you can still find it!
(02/15/2010)

By elle1972
Crafts Using Neck Ties
Here's a cute heart pin made from neckties. I would wear it all year long, not just for Valentine's Day. Good luck!

craftstylish.com (02/15/2010)

By Momof1
Crafts Using Neck Ties
Here is a neck tie wreath that was posted a couple of years ago and I absolutely love the idea! thriftyfun.com (02/15/2010)

By Deeli