October 24, 2011
0

found this helpful
If you crochet, you can use this as the liner/base for a small purse. Auto paint for plastic bumpers will also work. Wrapping the containers in string first, then paint, and then remove the string will create a one-of-a-kind container.
You can also add strips of paper, twigs, etc. under the string before painting. You could drill holes in them to use as planters, or run string through the holes and hang them as bell-like decorations. Glue them together to make a decorative column.
The ideas are endless. You should have fun trying all these things and anything that these suggest to you. Enjoy!
October 26, 2011
0

found this helpful
Fill the container 1/4 full with water, freeze. Then take a can that fits in center of your container. Fill the can with cat litter, sand for weight. fill with water and before freezing the container again add slik flowers, old ornament pieces, colorful glass to water. Freeze. When completely frozen, remove the can and ice from container so you have just the decorated ice.
Place in a dish to collect water. As now you can use the decorated ice as centerpiece for your holiday table with a candle or better yet the flameless candles. The light will be reflected through the ice. You can also do this and set them on your porch on the holidays to greet guests.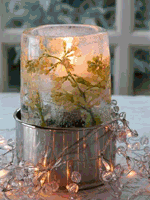 October 26, 2011
0

found this helpful
Make lids for them from polymer clay. Use a piece of plastic as a base and cook the pc on it. Plastic cut from the side of a large bleach bottle should work.
Then fill them with cookies and give them as Christmas presents. You could also just use several layers of heavy foil as a lid and glue decorations to the foil and the container to give away as cookie jars.