Creating a Crackle Paint Finish on Canvas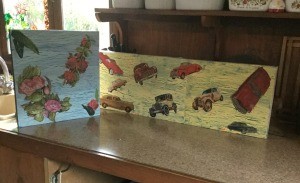 I love to experiment with paint on bottles or even on canvases. I found a great technique where I could use Elmer's glue on top of the paint and then paint a layer of paint over the glue to make the paint crackle and give it a very unique look. I normally do this with bottles, but decided to try it on a canvas to see how it looked. This is an easy project that anyone can do and the results are amazing.
Total Time: 4 Hours
Yield: 1 Canvas
Supplies:
1 canvas
Elmer's glue
white acrylic paint
2 different colors acrylic paints (your choice)
1 large flat paint brush
6 to 8 magazine images
hair dryer
varnish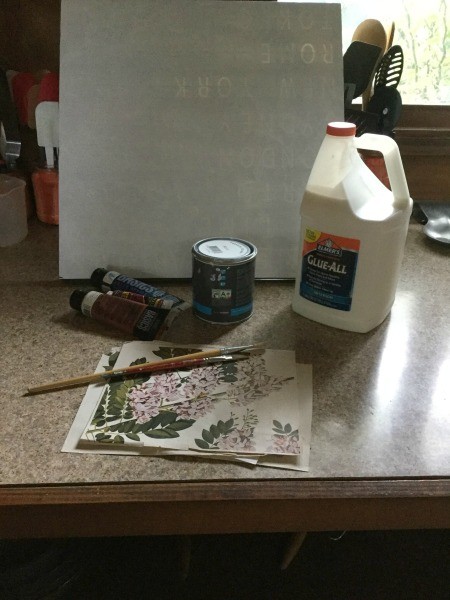 Steps:
Apply 1 to 3 layers of white acrylic paint to your canvas. I used an old printed canvas, so I needed to apply 3 layers of paint to cover the image on the canvas. Allow the paint to dry between layers.
With crackle art it is best to choose a darker color for your base color and a lighter color to go on top. I am using a dark green for my first layer of paint. Apply the paint to the canvas and allow the paint to dry.
If your canvas is very large it is best to work in sections. Otherwise, the glue will start to dry before you can apply the layer of paint over the glue. Start by applying a nice layer of glue over your base color. You will need to work quickly in this step. You do not want your glue to get to dry before you can apply the paint on top of the glue.
Now choose your top color. I am using yellow. Quickly apply the paint to the glue. You want to make nice even strokes so the glue is completely covered. Just apply the top color to the area that has the glue.
Now take your hairdryer and set the hairdryer on the highest setting. Start to apply the hot air to the area of the paint and glue. You will notice as the undercoat of glue dries you will see cracks forming in the top layer of paint. This allows you to see the under color in the cracks. If you have more glue in some areas the cracks will be larger than other areas. I try to always get a nice even coat of glue on the canvas so that you have a lot of nice cracks on the surface of the canvas.
Continue on like this until the entire surface of the canvas has been covered.
Now cut out the images that you have taken from a magazine. In this one I am using old car images. Place them on the canvas and decide how you want them displayed. Once they are arranged where you want them, add some water to your Elmers glue and glue them in place. You can apply a small amount of glue to the top of the image. Allow the images to completely dry.
You can now choose to decorate this with other mediums such as glitter glue or whatever else you choose. When done, apply a coat of varnish to the finished product. These make great decorations for your home or your children's room. Mine was made for my nephew who just turned a year old. He loves the car images on the canvas and it hangs over his bed so he can see the canvas.
Add your voice! Click below to comment. ThriftyFun is powered by your wisdom!
Categories
Pages
More
Categories