May 4, 2007
0

found this helpful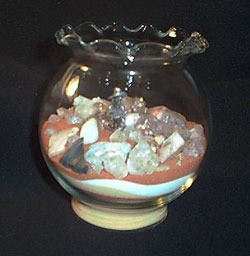 This is a super easy craft and an attractive way to display unusual collectibles.
Materials
ivy bowl - obtainable at most department and hobby stores.
decorative sand - I get mine at Hobby Lobby and Wal-Mart. My daughter Anna loves to do sand painting and I get it in small bags in different colors. You could use regular sand also.
your collectible
Directions
I made the Ivy bowl to display crystals that Ed (my husband) and Anna found and gave to me from a hike in the woods. Ed brought the little prospector back from a conference out West and gave to me as a keep-sake for my shadow box. Anna had been sand painting and had some sand left over.
I took the sand and layered it in the bottom of the ivy bowl.
On top of the sand I arranged my treasures.
You see the result. I've had a lot of compliments on it. I also have a display of shells and sand dollars done in the same way. To keep dust out of the display, I placed a clean medium size cup lid (from a McDonalds cup) at the top of the bowl. I put the lid upside and it fits nicely in the neck of the bowl.
There are a lot of attractive ways of displaying unusual items. Just use your imagination.
Happy Crafting!
By Ann Davis from Conway, AR
We have a few show dogs and I am decorating the spare bedroom (dog room) to put up our dog pictures, rewards and memorabilia. Any ideas on how to decorate, paint, etc?

Lynn from Tennessee
Answers
March 21, 2007
0

found this helpful
I saw this the other day on tv and though you would probably have to go larger, I think this method would showcase the awards fantastic. They used a contrasting color from opposite walls in a room to paint color blocks on the opposing walls. Then they took white molding to make a frame around the painted block of color, and then put the couple's artwork inside.
It really makes it pop and stand out and it looks great! I think this would work for your room. You'll have to watch all the way to end to see the results, but check out this video on Rachael Ray's website.
http://www.rach job-intervention
Good luck!
Answer

this Question

...