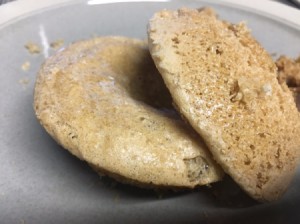 This is my mother's childhood recipe for a traditional Japanese grilled caramel called Karumeyaki. It is said this recipe is over 400 years old. It's mostly sugar but with a little help and the high heat from a copper ladle, it turns into this beautiful meringue-like cookie. It's actually quite the edible science experiment!
I've attached a video so you can see its awesomeness yourself. In the video, the Karumeyaki maker sprinkles baking soda onto the sugar. In this recipe, we dip our mortar into egg white, then baking soda, then stir. See what works for you!
Total Time: 7 minutes
Link: Karumeyaki in the making (Japan)
Ingredients:
water
crystalized sugar in the raw
1 egg white
1 tsp baking soda
copper ladle
wooden mortar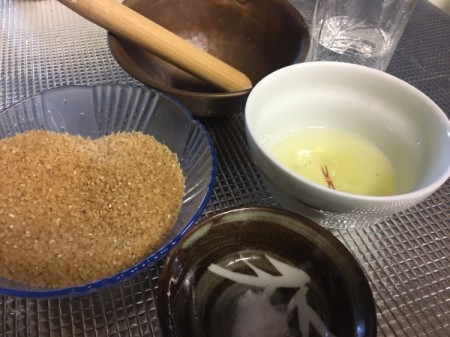 Steps:
To make one serving, add two heaped tablespoons of the sugar in the copper ladle.

Add one tablespoon of water to the sugar.

Place the ladle over high heat. The sugar water will start to make big bubbles.

After a few minutes, the bubbles will get smaller and the sugar water will become syrupy.

When the sugar crystals have all melted, quickly dip your wooden mortar into the egg white.

Then dip into the baking soda.

Remove ladle from heat and quickly stir the sugar syrup with the wooden mortar with the baking soda on it. As you quickly stir, the mixture will turn white. Stop stirring and it will puff up into your treat.

To remove treat from ladle, hold bottom over high heat and it will easily come out. Enjoy!

June 30, 2019
0

found this helpful
I have not made these myself, but i have made lots of different types of candy, so i think i can help.
The reason copper is usually preferred when making most kinds of candy is because it is so great at conducting heat. That means heat gets spread out more evenly across the cooking surface, and less heat needs to be used to bring the candy up to temperature. For these reasons there is less chance of scorching/burning the candy.
So yes, you should be able to do it with a ladle made from a different material, such as stainless steel, but i would definitely suggest spending a little bit on a new copper ladle instead of dealing with burnt sugar stuck to your normal ladle for the next 2years.
Also, do NOT be tempted to overfill the ladle! when the baking soda is added the hot sugary mass will expand to MANY times it's size, and you don't want that getting all over the place, or hitting your heat source and burning your kitchen down.