Crocheted Christmas Ornaments
Solutions
Share on ThriftyFunThis guide contains the following solutions. Have something to add? Please share your solution!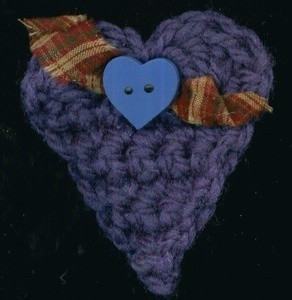 I used a coarse, almost sisle yarn for this, as it gave it a wonderful country feel. You can use any yarn you like. To make it fast, I suggest two strands and a size "N" hook.

Chain 2, make a single crochet in the second chain. Chain 1 and turn, making the next single crochet in the same stitch, then another in the next stitch.

Continue with increasing one stitch per row till your triangle size is reached. It is very important to stop at a row with an even count. In other words, 10, 14, 18, etc. You will need an even amount on each side to make the tops of the hearts, but each top will need an uneven count so there is a middle stitch.
When you reach the size you want, you will be at the end of the row you just finished. (stop at about 3 inches and you will have a nice size for an ornament. If you keep going, you could make a pillow), it's all up to you!!
When the size of triangle you want is reached, chain 1 and turn, making a double crochet in the "middle" stitch of that half. So, if your triangle's last row had 10, you will make your first double crochet in the 3rd stitch, making 3 or 4 more in that same stitch, then slip stitching in the 5th stitch of the first half. That is half of your hearts top. Do the same with the last 5 stitches, cut and secure yarn. (If your triangle had 14 on the last row, it would be 7 on each side, and the center stitch would be number 4...with 18 it would be 9 on each side and the center stitch would be 5, etc).
I used ripped fabric about 4 inches long and tied it between where the heart tops meet. The blue "button" you see is actually a wooden heart I painted and put two dots of black paint for the holes. You can decorate yours with anything from ribbon to raffia, classy to country.
It's crocheted, so you don't need a hanger on the back, but you can make one if you want it to hang lower from the tree branch.
Enjoy!
By Sandra from Salem, OR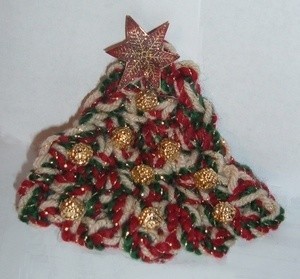 Here is another ornament I made and didn't sell. This one is a crocheted Victorian tree. As most of you know, Americana is tan, burgundy and navy. Well, Victorian is tan, burgundy and hunter green. It is a beautiful yarn, and you can't get it in the stores except during the holidays.
What I did, was start with two strands crocheted at once. I started with an "N" hook and a chain 2, then made 1 sc (single crochet) in the second stitch from the first chain. Chain 1 and turn, making a single crochet in that same one, then one across.
For you seasoned crocheters, you know we are making a "V" shaped by increasing just one stitch per row. Row 1 is two stitches, Row 2 is three, row 3 is four, and so on. I put on 7 rows, which makes the item about 4x4 inches total.
The last row, I chain 3 and make a "scallop" on each stitch across the bottom, breaking off and weaving in the tail.
On a trip to the Dollar Tree, I found strands of gold, green, red, silver, and blue beads that are just glued onto the string.
They were perfect for the tree's ornaments, so I bought a lot and cut them off the string during TV or whenever. You will save time and your hands if you use a toenail clipper. It gets closer and you won't cramp up.
I cool glued them to the tree, topping it off with a fabric star.
Because your item is crocheted, you really don't need to add a hanger.
ENJOY!
By Sandra from Salem, OR
Questions
Ask a QuestionHere are the questions asked by community members. Read on to see the answers provided by the ThriftyFun community or ask a new question.
Does anyone have directions for a beginner to crochet Christmas ornaments? I would love hearing from you with ideas. I can single and double crochet.

Deb816 from Hampton, Tenn.
Answers
By Leah Lynch, WA (Guest Post)
November 12, 2007
0

found this helpful
I found Crochet Christmas Wreath Ornament pattern. It's good for beginner. I had so many crochet books! I thought you might interesting this Crochet Christmas Ornament pattern. Also, this pattern can make a Christmas Wreath Napkin Holder.
Materials:
Yarns:Green worsted weigh yarn, less than 1 skein makes 1 dozen
Hook size:F
Other: 2" clear plastic rings (use shower curtain rings); red ribbon, approx. 1/4"; gold bow; small red holly berry and gold leaf decorations
Directions:
Rnd 1: Sc onto ring. Sc around ring, making sure to cover ring, approximately 42 times. Sl st to first sc to join.
Rnd 2: Ch 4, sk 2 sc, sc in 3rd st, *ch 4, sk 2, sc in 3rd st. Repeat from * all the way around circle.
Rnd 3: In each ch 4, work the following: sc, hdc, dc, sc. After last ch 4, join with sl st to first sc.
Finishing
Weave red ribbon in and out of holes made by ch-4 gaps, leaving adequate ribbon in the beginning so that you can use the end of the ribbon to join to it, creating an ornament string.
Next, tie a gold bow on top (I used the pre-tied bows with the wire string on back)
Glue gold leaf decorations to each side using hot glue gun.
Finish off by gluing a red holly berry to the middle of the wreath under the bow.
Hope you enjoy with your crocheting Christmas Ornament!
By DEB816 (Guest Post)
November 12, 2007
0

found this helpful
Thanks so much for this pattern.This is great! You have been A big help! MERRY CHRISTMAS TO YOU AND YOURS!
November 24, 2007
0

found this helpful
I made this for my kids teachers years ago. Very easy.
Get a canning jar ring. All you do is double crochet around the ring,crocheting until the stitches are tight together. the stitches when tight will ruffle very prettily. Then all you have to do is add beads,bells,ribbon what ever you want to decorate this little wreath with. put a loop on the back. Which is the back you choose. you can also put a picture on the jar lid that goes in the ring and snap it in ontop of the yarn. Let me know if you try it. I know you'll love how easy it is once you do the first one.
April 22, 2014
0

found this helpful
1Bell-Leave 10" yarn. S crochet chain 4. Join together at 1st stitch. S crochet in circle. It's like your wrapping the chain 4 15 xs. *Chain 2 then dbl c in each chain around, join together. Increase 2 st in each row (not together) for the next 4 rows*.
At the beg chain * 3 go in the next st sc chain 3 all around the bottom. It makes it look like a lacy trim. I took the 10"yarn looped it so you had enough to hang it on a tree (5") Inter twine in the top st. The left over yarn, string through the bell on the inside. I worked it in the top st and worked it so it does not come out.
After you have made a few you will develop your own pattern and shortcuts. I made over 600 in 2013.It took less then 10 min to make one. I gave them to my elementary school for Christmas gifts. 2 You can also make granny stockings Instead of 4 corners make 5. 3 rows fold in half sew together insert a sm candy cane. Leave enough yarn to hang on the tree. I'm making about 650 for 2014 Christmas.
Answer

this Question

...
Does anyone have a crochet pattern or would anyone point me to where I could find a crochet pattern for netting over glass Christmas ball ornaments? Thanks.
By stephanie from Anchorage, AK
Answers
November 27, 2009
0

found this helpful
You could also take a piece of nylon net and cut it in the size square you want, place the ornament in the center then pull the edges of the net up and tie it on the top of the ornament, forming a bow, you could also tie a really smalle silk flower into the bow or even an old dangley earring that doesn't have a mate. I actually bought an ornament that was already made like this, and it is one of my favorites. You can even buy tulle like they use for bridal veils, that has small pieces of glitter woven in and that would work just as well as the nylon net.
December 27, 2015
0

found this helpful
Hope not to late but look on Pinterest
Answer

this Question

...
I need a pattern for a crocheted dove and would like one that is all flat with wings attached on each side after they are done and then it is starched to hang on a tree. Or one that is stuffed, but not too big as it will be a tree ornament.
Thanks to all.
By Cheryl Doi
August 17, 2011
0

found this helpful
Dove of Peace in crochet with step-by-step instructions.
I thought it was great with 9 rows, so it's good to make a dove and then make adjustments. Stitch feet, made with felt beak, and eyes with a fabric pen.
I am looking for a crocheted pattern of a dove to hang on a Christmas tree. My preference would be one that the body, tail, and wings are made separately, starched, and then put together. Maybe this is not possible, but any pattern would be greatly appreciated.
It is to hang on a Christmas tree at church in memory of a loved one. We pay $2.00 to hang it and the proceeds go to a charity after Christmas. I would also like to make some for others who cannot afford to purchase a dove or to pay to hang it. That is my quest for this year; to do as many as I can and save toonies for people who want to do it, but can't afford to. I am on an extremely limited budget so may not be able to do many, but even a few will help.
All patterns will be so much appreciated. Thank you.
By Cheryl Doi
Answers
August 7, 2011
0

found this helpful
Dove of peace in crochet with step-by-step
Stitch feet, made with felt beak, and eyes with a pen for fabric.
Little body : make 4 chains;
- 1st, 2nd and 3rd row: 4 points lower;
- The 4th to the 11th row: 6 points lower;
- The 12th to the 14th row: 4 points lower.
Fold it in half and put acrylic blanket.
Wings : make 12 chains;
1st row: 12 lows;
-2 Nd and 3 rd row: 10 lows;
-4th and 5th row: 8 lows;
-6 And 7th row: 6 points lower;
-8 And 9th row: 4 points lower.
(Maybe we should frown least the wings before you preach them.)
Tail: Make 8 chains;
-9 Careers with 8 points lower.
I thought it was great with 9 rows, so it's good to make a dove and then make adjustments.
Photos: http://suelinha e-com-passo.html
Have fun!
Eliane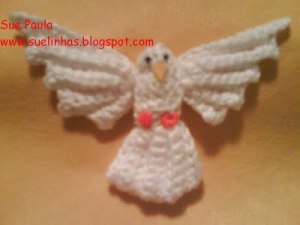 Answer

this Question

...