With a larger heart for the body, and two smaller ones for wings, you can create this very cute angel wall hanging.
Approximate Time: 1 hour
Supplies:
double strand pink and gold lame thread
You can of course use any color, but this was my favorite today. You will need 30 yards, from shoulder to fingertips like our mammas taught us to do.
1 gold rose
some gold ribbon
about 1 inch of either ribbon scrap for hanger or pearl bead string
cool temp glue
size E hook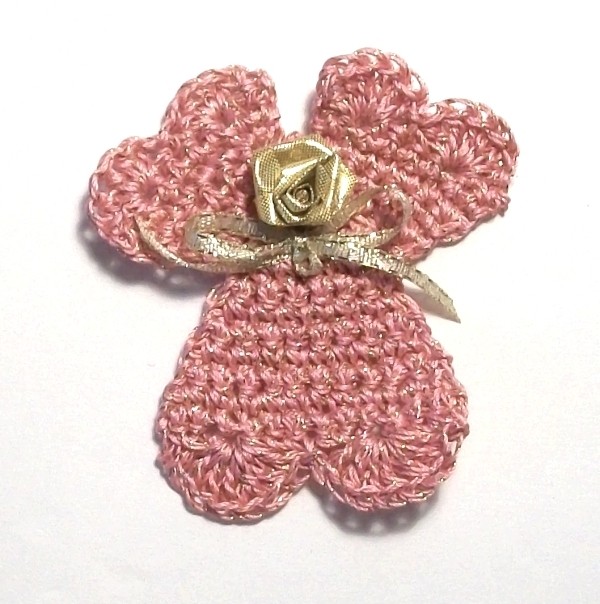 Instructions:
Ch. 2, 1 sc in first ch. Ch 1, turn, make sc in the next st. and across. You will notice this will increase by one stitch each row, making the work bigger as it goes. When making these hearts, which is my favorite pattern, you need to know a bit about math.
THIS IS REALLY IMPORTANT: Each even number has two halves, for example 8 has 4, 12 has 6, etc. However, to make the shell pattern that makes the hearts tops, you have to have a center stitch to make the pattern work. So, while you work, you need to be aware that not every even numbered row will work. You have to make sure that your even numbered row has two sets of odd halves, so that each one has a center stitch. A row of 10 works, because it has two sets of 5, which has a center stitch, or #3. In this case, we are going to take it to 14 across, giving us two sets of 7, with a center stitch of 4.
Once you have crocheted a row of 14, do not chain 1 as before, but do turn the yarn and make a double crochet in the 4th st over, and another 6 in the same st. Then, slst in st number 7. Slst in next st and repeat next shell.
Your body heart is made. Weave in and tie the tails. I like using double strands because it's not only faster, but I can weave each tail into the back then tie them together.
Make two wing hearts using the same pattern, but stop at row ten, so you have two fives to make the shells with. You will make the first dc in stitch 3 and end in st 5, then make the second one just the same. Weave in and tie tails.
With the body heart upside down and backwards, plan where you want the wings because once they are glued, they won't ever move again. Make sure the wings are backwards when you are planning, then they will be correct when you are ready to glue them. Just to be clear, all wings and body fronts should be face down when you glue, then they will be correct when you turn the angel over.
Glue on the embellishments you choose and the ribbon or bead string between the wings for something to hang it with.
These angels can be made with any colors, as I am sending one I made with reds and purples, but I don't like the wing placement so I am not submitting it. For instance, you can make one of someones fav' color or colors.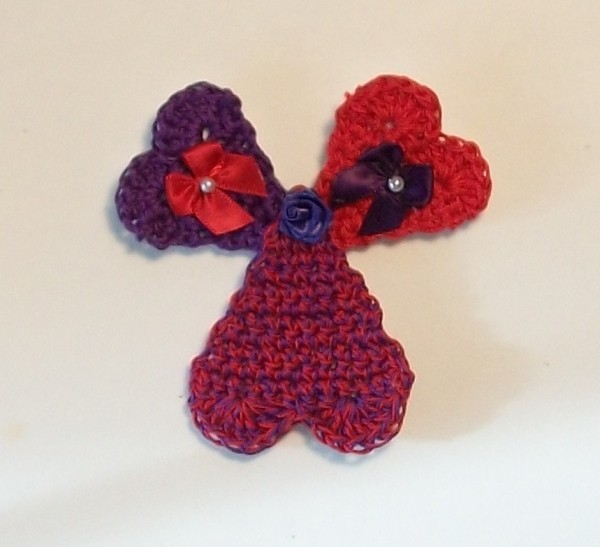 Spring angels can be made with any pastel colors, then Americana (my favorite, but you can use red/white/and blue if you want) for summer, then golds, browns, and burgundies for fall, and of course reds and greens, and any holiday colors you prefer. I have always loved blue and silver or red and gold, but just about any color of angel is still "Perfectly Heavenly".
I hope you enjoy this craft. Of all the shapes I love, I think hearts are my favorite.
So, show someone you care, even if they aren't a "significant other" with this quick and simple gift, that will cost you about .50.
N-JOY!
By Sandi/Poor But Proud from Salem, OR
Comments
Read More Comments