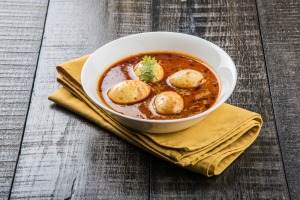 Curried eggs are great on a salad and simple to make.
Ingredients:
1 dozen eggs
1 tsp. margarine
1 pinch salt
1 tsp. tomato sauce
1/2 tsp. curry powder (Keens Traditional Curry Powder)
1/4 tsp. soya sauce
1/4 cup vinegar
Directions:
Place eggs in a pot with cold water add vinegar. Boil on stove for 5 minutes, then drain off hot water and add cold water, let stand for 5 minutes.
Peel off shell. Cut eggs in half and remove the yolk.
Place yolks in a mixing bowl. Add margarine,salt,tom sauce,soya sauce mix well. Add curry powder mix well.
When mixed place the mixture back into the white of egg. When all eggs are filled with mixture, press top with fork.
Add gerkin slice in small pieces for decoration if you wish. Makes a great party filler.
Adding vinegar to eggs when boiling will stop eggs cracking or use a tsp. of salt.
Servings:
10
Time:
20 Minutes Preparation Time
5 Minutes Cooking Time
By Michelle from Boddington, WA